Hey, want to make the most of writing services? Here's our this month's best picks:
Service with a negative reputation
Customessaymeister Review
Updated: January 11, 2023

Author: Will Martins
We don't recommend this service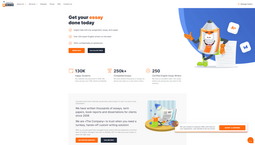 Pros
5% to 10% lifetime discounts for regular customers
Cons
Horribly wrong writer chosen for the essay topic
Outdated reviews and no feedback outside the website
Five rounds of revisions required to get a refund
| | |
| --- | --- |
| Owned by | MEDIATECH LIMITED |
| Years in operation | 15 |
| Minimal price per page | $16.95 |
| Deadline | 3 hours |
| Revision policy | Yes |
| Refund policy | Yes |
It looks so fun and cute! That was my first thought when I came by Custom Essay Meister. The color scheme and animations were almost enough to convince me to place the order right away. But you know me, I had to dig deeper.
That's where I found broken links, outdated reviews, and uncooperative drop-down menus. After a few minutes, my enthusiasm waned, and I could assess the website objectively. The bottom line is: the looks are deceiving, and the website needs extra work.
Customer support
Delight and disappointment are the two common emotions I felt while talking to support agents. They were accommodating and answered all my questions before I placed the order. However, when I requested a revision, their tune changed, and the customer support team turned from helpful and friendly to cold and unreachable.
My experience
Throughout my Custom Essay Meister review, you will notice severe fluctuations in tone. The trouble with this company is that it's great and horrible at once. My experience tells me they will treat you like royalty until the point of payment. After that, prepare for disappointment.
Order form
I enjoyed placing the order because the process was quick and straightforward. First, I used the price calculator to learn how much I would have to pay.
Second, I added more details about my essay for the writer. I skipped the third and final section of the form because I had no writer preferences. Still, it is a great feature that lets you select preferred and blocked writers. After adding the order to the cart, I paid using my credit card. The whole process took under five minutes.
Discounts and pricing
CustomEssayMeister is not the cheapest of writing companies. The prices start at $16.95 per page for high schoolers on a 14-day deadline. The rates increase by $1 per academic level, and senior college students have to pay $20.95+ per page.
Professional and Doctorate levels are the most expensive, with prices starting at $22.95 per page. The only upside is that one page includes 280 words, not the usual 250 or 275.
I didn't need to look for a customessaymeister.com discount code, the website automatically identified me as a first-time customer and sliced 10% off my order. And that was before I supplied my email, so it was a definite win for me.
Revisions
Revisions are free unless your new instructions contradict the initial order details. However, there are only two weeks to file a revision request. I did just that to get my writer to correct the mistakes and streamline the structure.
Despite the promises of prompt revisions, I had to wait three days for an updated version of the paper. By that time, I had already done the work and submitted the essay.
Considering my experience with revisions, I'd say the company's refund policy is torture. I'd have to go through five rounds of revisions to get my money back. I doubt I'd have the patience or the time. This doesn't mean that customessaymeister.com = scam, but you should keep these rules in mind before you place the order.
Final quality
As you already know, I couldn't wait for the final version of the essay and submitted it with my edits. It got me a C, which was not what I'd expected after paying $60+ for a 3-page piece. The professor had the same issues with the paper, as I did. The structure was convoluted, the transitions were too abrupt, and the thesis got lost within the arguments.
Is CustomEssayMeister reliable? It wasn't for me. I got the wrong writer for my project and had no time for multiple revisions. I'm not sure I would recommend this company.
Writer's proficiency
Customessaymeister.com rating system for writers is confusing and misleading. When I tried different filters, I never found writers with ratings below 8, even though I found several with only 6.5 points to their names in the order form. Overall, the writer contingent seems solid, and the option to choose preferred writers is helpful.
As a first-time customer, I let the system find the best writer for me, and their work was barely passable. I am 100% sure the writer was not an expert in the field because some of their statements were absurd. I wish the company wouldn't assign papers to random writers and would find real specialists for the common classes.
People talking
When I tried to answer the question of "Is customessaymeister.com legit?" I had trouble finding independent feedback. The absence of reviews on Reddit, Trustpilot, and SiteJabber was an unpleasant surprise. For a company that's been around for over a decade, the lack of feedback seems strange.
I have to admit there are plenty of CustomEssayMeister reviews on the website, and most of them look real. However, many reviews date back between 2007 and 2013, and that does not look good. I'm sure many of you would like to see recent feedback instead of outdated reviews.
Loyalty program
According to CustomEssayMeister, the company started a loyalty program back in 2009. Since then, regular customers can enjoy lifetime discounts ranging from 5% to 10%, depending on their overall spending. You need to spend at least $500 to join the loyalty program, and you will get 10% off all subsequent orders once you spend over $2000.
Similar Reviews
FAQs
| | |
| --- | --- |
| What is customessaymeister.com rating? | I have no idea! Trustpilot and SiteJabber were empty, and I also did not find any comments on Reddit. But I would give them 2,5 stars, no more! |
| Is customessaymeister.com fraud? | No, but it seems they do not strive to help students at all. The paper quality was mediocre, so I asked for a free revision, but my writer did not hurry to fulfill it. |
| Is customessaymeister.com safe? | I would not call this company safe. I requested a free revision but did not receive the changed paper within three days! I could not wait for it anymore, so I edited it by myself. |
| What do customessaymeister.com testimonials say? | As I wrote about, I failed to find some reviews and comments from their customers. I could read feedback only on their website, and of course, they were all positive. |
| Is customessaymeister.com scam? | No, but I expected that the quality of my essay would be better. It was very sad to get a C on a paper that cost $60! |
Comments (4)
tjohnson3627 says:
at 2021-01-25 14:24:00
it is really a bad paper dose not deliverd on time
braden.vo18 says:
at 2021-04-02 20:24:00
Didn't complete the work required within the allocated time frame. Few problems with paper that had clear instructions of what was expected.
mrlemons858 says:
at 2021-05-01 18:31:00
The writer didn't read my instruction carefully. And they missed up my paper deadline. Will never depend on this company again.
criollano1 says:
at 2021-06-21 19:28:00
Way too much going back and forth and not getting the final result I was looking for. The case paper that was done I received a 70 on which is 1 point away from failing it. You should be able to speak with the writer directly instead of having to jump through all these hoops.