Hey, want to make the most of writing services? Here's our this month's best picks:
Service with a negative reputation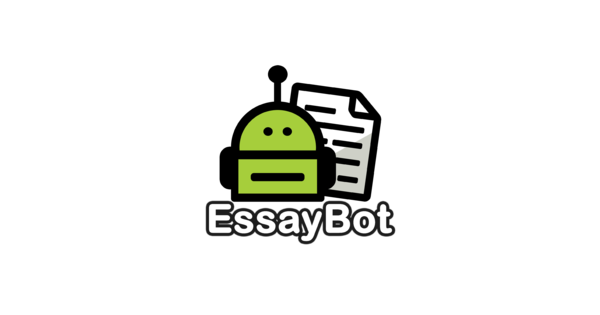 Updated: March 01, 2023

Author: Will Martins
We don't recommend this service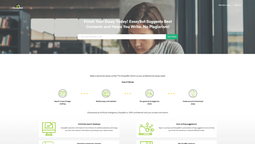 Pros
A referral program
A one-week trial is only $2.49
Can be used for inspiration
Cons
Text contains plagiarism
Requires heavy editing and proofreading
A fake References list
No refunds
Inefficient customer support
| | |
| --- | --- |
| Owned by | Resure Technology Inc. |
| Years in operation | 12 |
| Minimal price per page | $10.00 |
| Deadline | 1 hours |
| Revision policy | No |
| Refund policy | No |
EssayBot is what its name says, it's basically a bot that helps in writing essays. No human writers are involved in the process, but at this stage of EssayBot's development, that is definitely a drawback.
I found it by looking for useful essay writing tools and decided to test it, although I had my doubts from the very beginning.
If there were a bot that could write me a perfect paper, all the other writing services would shut down, and teachers and professors would stop assigning their students essays.
Or such a tool would cost too much, being unique. Is EssayBot free though? No, and that makes using it even more pointless. More on that in my Essay Bot review.
Customer Support
The only means of contacting customer support is via email. Needless to say, that's rather disappointing. And, as one would expect, answers don't often arrive the same day.
My Experience
The site is very simplistic, and although there are not many things you can click on, it's quite easy to get a bit lost here and figure out your way out.
The main feature, which is a bot, is right there in the middle of the page. Now, is using Essay Bot cheating? Not if you do it properly.
Your teacher or professor might have a different opinion about it, but I see nothing wrong in using such a tool for sources of inspiration and writing your own essay. That is, however, not what EssayBot is intended to be, but it won't write an essay for you and is quite a disappointment, sorry.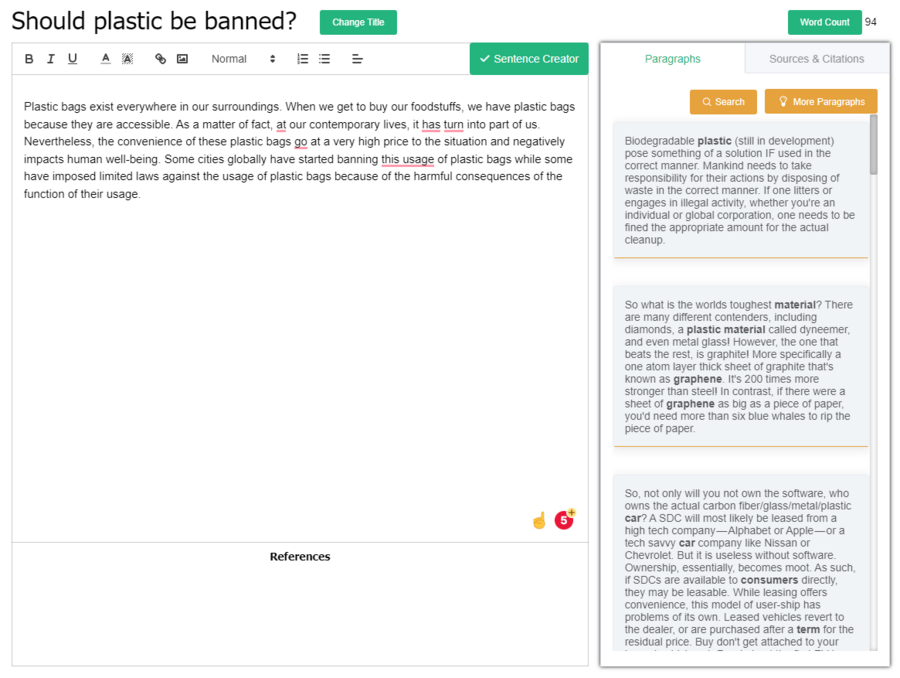 I don't fully understand how these guys can charge money for automatic paragraph insertion. My Essay Bot review was only possible because I wanted to understand the essence of this digital assistant. But the site does not write a full-fledged essay but only offers you paragraphs similar to the topic you specified. You can technically rephrase sentences but be prepared for your paper to look like an alien in a crowd of people.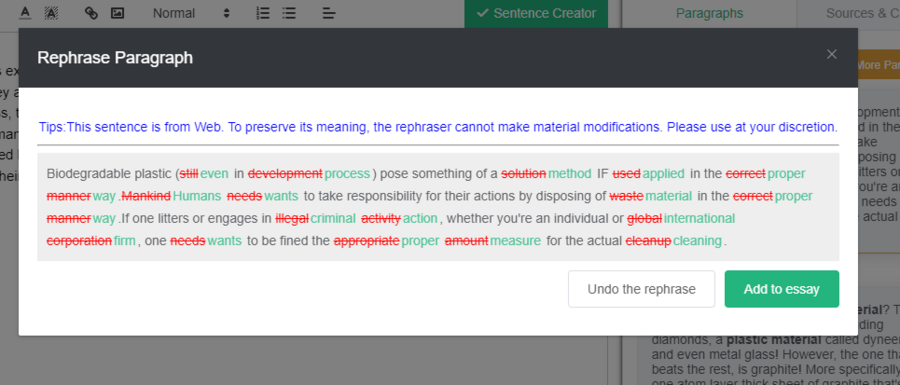 On the one hand, I understand that the developers wanted to simplify the life of modern students. But the result looks terrible. I won't recommend Essaybot unless you're willing to spend at least a few hours editing paragraphs. In addition, this bot does not write an essay but only suggests parts of the text that may not be logically connected. Unfortunately, this situation is normal for this company.
Order Form
Here's how Essay Bot works. You write your title, a topic, or a single word related to your essay subject. The AI quickly searches for completed essays and articles that could be relevant and offers you several options you could use to start your own paper with.
It then rewrites that paragraph to make it undetectable for plagiarism checking tools. You keep repeating this for the remaining paragraphs, or can just start writing, and the bot will suggest the ending of the sentence (pulled from one of the sources, of course).
However, you can go the hardcore route and rewrite all sentences by hand. But such a strategy seems absurd, especially if you can write essays yourself. Essaybot looks like a good solution for those who don't even know basic essay writing approaches and suffer after creating a couple of sentences. That is why you should think twice before paying these guys.
Discounts and Pricing
There are two options in terms of subscription:
A week-long trial for $2.49. Once it ends, you'll be charged $9.95 per month. Billing is done monthly.

You start at only $4.95 per month, but you will be charged for the whole year.
As you see, the second option is cheaper in the long run, and you can cancel both of them anytime. Is Essay Bot legal though because that's a hefty sum to pay at once? Well, it seems to be, at least judging by its Terms and Conditions.
There are no refunds, and because of that, by paying you automatically agree with any quality of text you'll receive. Seems fair, but also sucks.
Revisions
You can make the bot rewrite and rephrase the paragraph again and again if you do not like it, but you'll be the one revising the whole thing. Do not forget that Essaybot automatically rewrites sentences, destroying all life like a nuclear bomb. Your paragraphs will look like auto-generated codes that will never work. It is much easier to start writing your essay or find a writing service. I consider such technical innovations as "toys" for students and not as a way to solve paper problems.
Final Quality
Now, EssayBot's rephrasing is essentially substituting every other word with a synonym. At times, the final product is a mess and makes little sense. And it doesn't even pass the Essay
Bot plagiarism check! So, unless you do some heavy rewriting yourself, you can't hand that essay in. I don't even know what criteria I should apply to evaluate the final result. If my essay were written by a real person, then I would curse such a person with all the dirty words I know.
But given that my paper was generated almost automatically, I won't even talk about the quality of the work. I would advise any student to start writing essays on their own or find a real writer and not rely on a chatbot. In the end, this is not an AI system, but a set of search patterns that do not work correctly.
Writer's Proficiency
Another problem with EssayBot is that it obviously does not understand the texts it's offering you, it just searches for keywords. Therefore, there's no connection between the paragraphs. Once again, it's up to you to make it work.
EssayBot also does not show the sources the suggested paragraphs are from, but it has a separate tab you can use to find citations and sources for your bibliography list.
This bot does not understand the essence of assignments. You won't be able to choose the right essay type, tone of voice, or arguments. Also, forget about proper formatting. And the bot only invites you to add text blocks and does not follow the creation of polished paragraphs. In other words, you pay money for something that does not exist.
People Talking
What do other people have to say about this "great" tool? It turned out, there aren't many EssayBot reviews on the Internet. SiteJabber had none, TrustPilot had one, and it was suspiciously positive. The other reviews, including a few EssayBot Reddit comments, also found it useless and not worth neither money nor attention.

I found only a couple of comments on small forums. Even the laziest students are squeamish about using an incomprehensible and inefficient text algorithm. I can't blame them because my experience was terrible. That is why I advise you to spend a lot of time on web searches before making any decisions.
Loyalty Program
There's a referral program. If someone uses your link, he or she will get a 50% discount for the first month, and you get the next month of your subscription for free. But I do not understand the meaning of such activities. Why would you waste your time looking for loyal people when you can find professional writers? Even such bonuses won't make me waste my time! I advise you to look for alternatives not related to total text automation.
Similar Review
FAQs
| | |
| --- | --- |
| Is essay bot free? | No, this platform has a paid subscription that allows you to download a done paper. It doesn't cost much, and you can pay $2.49 for a week-long trial or $9.95 per month. |
| Is essay bot safe? | I think, yes. I didn't notice any strange statements or conditions that threatened the safety of students. So you shouldn't worry about using this platform. |
| Is essay bot good? | Well, it works, and you can ask the bot to rephrase paragraphs many times, but it takes a lot of time. I believe it's better to seek help from professional writers. |
| Is essay bot cheating? | It depends on how you use this platform. I don't think that it is cheating to get inspiration at this platform or find sources for your writing assignment. |
| Is essay bot legit? | Yes, and you can look through its Terms and Conditions to make sure of it. However, there are no refunds, so you automatically agree with any quality of the paper by paying for it. |
Comments (5)
abdifarhiyo says:
at 2021-04-22 18:22:00
No I did not enjoy it. I was lied to!
ksnicholas10 says:
at 2023-04-13 22:40:00
i would not recommend to this site to anyone,first time at this site and had horrible experience at my deadline that i paid all that money for
brilliant_hesse says:
at 2023-04-10 22:40:00
Good, however, I wasnt happy about the copy and paste parts on the paper. Other than that i was ok with the final paper
tin8bb says:
at 2023-06-28 15:24:00
This paper already had 5 revisions, basically, content issues are fixed by 2 revisions. However, I don't understand why it takes more than 3 revisions to provide correct reference quote! Valid in-text citation is very important, make sure it passed the audit, in case. I asked about the reference of "(Doan, 2018)" for 3 times! Got no feedback from the writer. I just need to know where the related information is from.
smphy2312 says:
at 2023-06-28 11:38:00
The paper was plagiazerised