Hey, want to make the most of writing services? Here's our this month's best picks:
Service with a negative reputation

Updated: January 14, 2023

Based on 0 reviews

Author: Will Martins
We don't recommend this service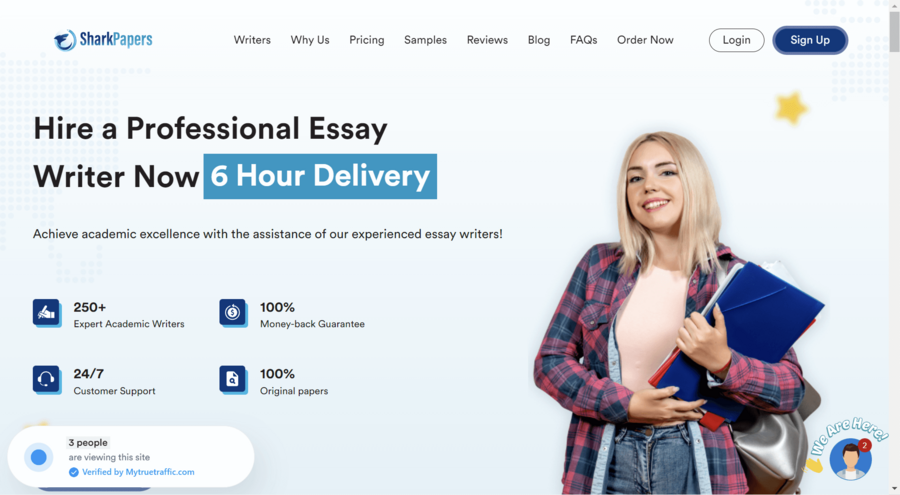 Pros
Android and iOS apps are available
Cons
Overpriced services with a "50% discount"
Unreadable writing and weak research
Plenty of bad SharkPapers reviews on Trustpilot and SiteJabber
Annoying customer support and notifications
| | |
| --- | --- |
| Owned by | SKYSCRAPERS LLC |
| Years in operation | 6 |
| Minimal price per page | $28.06 |
| Deadline | 12 hours |
| Revision policy | yes |
| Refund policy | yes |
Site overview
At first glance, the website seemed respectable and promising. But when I looked closer, I discovered the supposedly US-based company was founded in the UAE and fell under UAE jurisdiction. And I wouldn't be surprised to learn my card was charged more than expected, as the company only accepts payments in AED. If that's not enough to discourage you from using this service, there's more where it came from in my SharkPapers review.
Customer support
I didn't get much help from the support agents I chatted with. They were extremely pushy and annoying, trying to convince me to place the order. The live chat pop-ups and persistent notifications about recent activity drove me up the wall fast.
On the bright side, the company representatives respond to negative SharkPapers reviews on Trustpilot and SiteJabber within seven days. But, unfortunately, their responses are trite and unhelpful.
My experience
I wanted a short 3-page essay outlining the digital tools implemented in college classes throughout the pandemic. I wasn't in a hurry, so I gave the writer over a week to find five or more sources and put together an informative piece. Considering the service's promises, I expected this SharkPapers review to be a breeze to write.
Order form
I'm used to weird and complicated order forms, but this time it made another point of contention for my SharkPapers review. For some reason, I had to fill in contact details and paper requirements in the first two steps, while the third one wanted me to log into an account that I hadn't created yet. It was all extremely confusing and awkward. Besides, I didn't like that SharkPapers equaled my sharing the phone number with agreeing to the Terms and Conditions. It seemed sketchy.
Discounts and pricing
The pricing was nothing but a marketing schtick. Did the company want me to believe I'd get 50% off any paper? Considering the full prices start at $28.06, I wouldn't have written this SharkPapers review because that's too much for a high-school paper on a 14-day deadline. Even after the bogus discount, I paid over $100 for a 3-page essay, and the piece wasn't worth even half the price.
Revisions
According to the revision clauses of the Terms and Conditions, you can get a free revision within 14 days of getting the paper. But it will only be free if the corrections align with initial requirements. Besides, each revision round takes 24+ hours. Unfortunately, the two revisions I got did not make much of a difference. So I agree with multiple SharkPapers reviews claiming SharkPapers revisions are useless.
Final quality
I tried to keep this SharkPapers review objective, but the essay I got was a mess. Instead of using recent publications, they relied on sources published in the early 2000s, which did not mesh with the pandemic-related topic. And although the essay had an introduction, the conclusion was missing.
I don't even have the words to describe the stream of consciousness I got. I looked like someone used Google Translate before replacing every other word with a smarter-sounding synonym. I couldn't make sense of some sentences, and the others were simply incomplete. Yet the writer saw no problems with the essay when I confronted them about their writing.
Writer's proficiency
SharkPapers website claimed I'd work with "native English academic professionals ranked #1 among our competitors by The National Board of Professional Scholastic Writers". But this Board doesn't exist outside the essay mills belonging to SKYSCRAPERS LLC. In its place, there's only the Scholastic Art and Writing Awards.
After reading my SharkPapers review, you probably realize there's no way the company's claims are valid. The writer I got was neither a native English speaker nor a college graduate.
People talking
One in four SharkPapers reviews on Trustpilot and SiteJabber is terrible. Most of the one-star reviews have complaints similar to mine, so I have no reason to doubt them. Many reviewers are disappointed by the writing quality, the useless revisions that don't make a difference, and the inability to get refunds.
Loyalty program
I found no mention of special deals, offers, or discounts for regular customers besides the initial 50% off and the freebies, like the title page and formatting. And none of the SharkPapers reviews I read mentioned anything about a loyalty program, which isn't surprising, considering how bad their writers are.
FAQs
| | |
| --- | --- |
| Is SharkPapers a scam? | I don't think so. But even if they delivered the paper I paid for, I felt robbed. |
| Is SharkPapers legit? | More or less. The website belongs to SKYSCRAPERS LLC, based in Sharjah, UAE. So despite hosting multiple offices in the US, UK, and Australia, the service is regulated by UAE laws and accepts payments in AED. |
| Is SharkPapers trustworthy? | No. You cannot trust their bold promises because they will let you down. Besides, the refund and revision terms are so vague there's no chance you'll ever make use of either. |
| Is SharkPapers a good service? | No. The writing looks like a stream of consciousness, and the rates are inflated, even after the generous 50% discount, which seems like a marketing trick rather than a genuine offer. |