Hey, want to make the most of writing services? Here's our this month's best picks:
Service with a negative reputation
Updated: April 19, 2022

Author: Will Martins
We don't recommend this service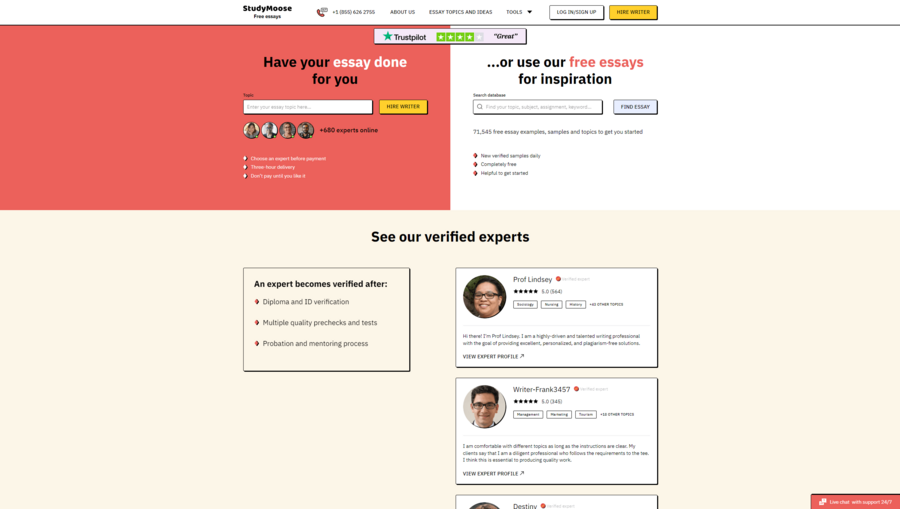 Cons
The prices are just too high for this quality of service
The most important extras like plagiarism report and SMS-notifications are not offered
No discounts
Your revision requests can be unjustly denied
| | |
| --- | --- |
| Owned by | Plan B Services LTD |
| Years in operation | 6 |
| Minimal price per page | $14.00 |
| Deadline | 3 hours |
| Revision policy | Yes |
| Refund policy | Yes |
Hi, everyone! Today we're to review a paper writing service that does not seem professional and caring about the customers even from first sight. I don't even like the website's name, but let's be more objective. I am going to review the services provided by this company. Behold, it's Studymoose.com (I know, it's a really strange name, but, whatever).
Yeah, Studymoose.com is the custom paper writing service that promises to give you a sample of a certain work depending on a topic and subject. What is more interesting, they emphasize that they don't tolerate cheating and they won't allow the buyers to submit the ordered papers as their own.
The website itself is over-minimalistic to the extent that it does not even contain crucial information regarding the service, its prices, discounts, revision policy, etc. So basically, if you want to ask any questions regarding the service before paying for it, you have to ask the support team directly via chat.
It's really not comfortable. Also, why not having a price calculator to let people know about the prices for their service? Dunno. Anyway, let's move on to their Support Team.
Customer support
As I've said, I did not find any relevant information about anything, I was concerned about. That's why I decided to ask the Support Team about every detail of their service.
First and foremost, it's really good that the Support Agent was highly responsive until my last question, then she suddenly disappeared from the chat. Anyway, it really felt that she was trying to explain how everything works. I'd give it 3.5 out of 5, and I could have given them more if she did not disappear from the chat.
So, basically, I've got everything regarding Studymoose from April. I wish I could have read that on my own on the dedicated website page. In total, the Support team gets the job done, and that's it. It's decent, but obviously not perfect.
My experience
Is Studymoose reliable? I can't say so. I wanted to make an article review for my Sociology class. In the majority of cases, I try to do my homework on my own, but the article which I was to review was more than 50 pages of scholarly text. It was really hard to read.
The text contained all the analytical and statistical data from specialized research. I really did not have much time to review that by myself.
Therefore, I decided to place an order with Studymoose.com. The review was supposed to have 2 double-spaced pages and formatted according to MLA style. I chose the deadline - 10 days, which was enough for me.
As a result, what did I get for the price paid? A paraphrased abstract of that article! I mean, I wanted a review and a response, regarding the article, but not the same information, already written in the article's abstract. Additionally, I don't really feel that the paper was done by a native English speaker.
Order form
Their order form does not seem to be concerned with unnecessary details. It does not contain the "Academic Level" field, it does not have any field for the promo code or discount code (because they don't have any discounts at all!), etc. The order form is simple and comfortable to use, but it really feels primitive and not involving all possible details of the order.
Moreover, I don't see any extras, offered additionally with the paper, like plagiarism report, SMS-notifications, etc. None of that. You'll only be offered to pay for the more expensive writer.
Discounts and pricing
The price and discount policies seem shadowy and doubtful. What do I mean by that? I mean that you cannot really know what the price of your paper is! So, you gotta include all the details of the order and keep your fingers crossed, so that your paper won't cost over 9000 billions of bitcoins.
Okay, seriously, why not having a clear and detailed price calculator, so that a person will be aware of the prices? Studymoose does not seem to be bothered by that. They're not interested in informing clients about their prices.
They're more interested in gathering money from them. It's really great that April from the Support Team told me that a regular price for each page is $18, but where is it written on the website?
Another "pleasant" issue here is the discount policy. Or its total absence. In both cases, whether you're a new client or a returning one, you won't get any price deduction.
Revisions
Here's another screenshot of my chat with April from the Support Team.
I don't know whether they truly believe that they are the only one service, offering free revisions, or they just simply trying to create an advantage out of air. It's not a benefit that you make free revisions, guys. Your first and top priority is to revise the paper as many times, as possible, so that the client approves the order.
And guess what? After delivering the paper, I immediately sent it back for revision because it was a completely wrong type of paper. I did not want them to paraphrase the article's abstract. I wanted an article review and response to the article's content, maybe some personal commentaries, etc. Now the fun begins.
After sending the paper for revision, the Support Team simply told me that these instructions were not mentioned initially, and I had to pay for revision. Obviously, I did not do that. You may wonder, is Sudymoose scam? I started thinking so because my paper had to be revised for free.
Final quality
Finally, I've got a completely wrong paper. So, I spent money for nothing and I had to read that huge article and do a review by myself. I understand that Studymoose did not want me to submit their paper as my own, but it was not the case here. The case was in the fact that the writer did not understand the instructions and made a completely different task.
Writer`s proficiency
That's what the website tells us about the writers:
That's what April from the Support Team told me about their writers:
Seems strange, right? From my own experience with these guys, I'd like to tell you that the writer was silent, never asking for any clarification (I wish he would have asked for it instead) and delivered the paper on time.
If we disregard the fact that the writer did a completely different job, it's worth mentioning that it was a decent level of writing and was delivered on time. Still, I feel that the writer was either from India or Kenya because the use of words was too simplistic.
People talking
Is Studymoose legit? Check the reviews, shown to us on the website. They seem to be automatically generated to me.
Scamfighter gives them 2.5 out of 5, which is not a good sign, as well. I gotta agree with these guys in terms of this mark. I wouldn't rate it any higher, as well.
I couldn't find Studymoose Reddit reviews, but I've found a link to the review on EssayYoda. It was quite positive. I don't know whether it was a paid one, but it didn't seem to be true. I've already used the service and know about its quality.
Loyalty program
Studymoose apparently does not know about the loyalty programs and their importance for the returning clients. So, they don't have it. You just pay $13.90 per page for your first order and then pay not less than $18 for the rest of your life.
As you can see, April from the Support Team tried to justify this, but I don't see any objective reason why a paper writing company wouldn't have a loyalty program.
Similar Reviews
FAQs
| | |
| --- | --- |
| Is studymoose scam? | I think so because of the rejected free revision request. As I described above, I got a completely wrong type of paper and immediately sent it back for revision, but had to pay for it. |
| Is studymoose a good service? | I did not get a paper that I needed, so I just spent money for nothing. The writer did not understand my instructions, but the support agent still demanded to pay for the free revision. |
| Is studymoose cheating? | Well, it is a custom writing service that writes papers on different subjects. However, they emphasize that it is not allowed for students to submit completed papers as their own. |
| Is studymoose legit? | To find the answer to this question, I usually look through student reviews. But Studymoose disappointed me with the lack of feedback on Trustpilot and Sitejabber, and Scamfighter gave them 2.5 out of 5. |
| Is studymoose reliable? | No, it is not a reliable service. I ordered a simple review and gave them 10 days for it! But instead of a well-written paper, I got a paraphrased abstract from the article. |
Comments (2)
monicaaugustemandl says:
at 2021-04-17 21:13:00
Not really satisfied with this paper, I will have to make major revisions myself and I outlined more revisions which have not been met. Other two orders were perfect. Not satisfied with this order
sweetazngirl_42 says:
at 2021-06-02 09:13:00
The paper is great and the support quality was alright. I feel like the supporters should be less rude to their customers. I asked and paid for a 10 page essay but they gave me 9 pages. Their argument was that 10 pages has a certain amount of words in it but that's not how it works when it comes to essays. Pages and words are different. If i asked for 10 pages I would assume I would get 10 physical pages. Not a certain amount of words that they think is worth 10 pages.