Hey, want to make the most of writing services? Here's our this month's best picks:
Service with a negative reputation

Updated: March 01, 2023

Author: Will Martins
We don't recommend this service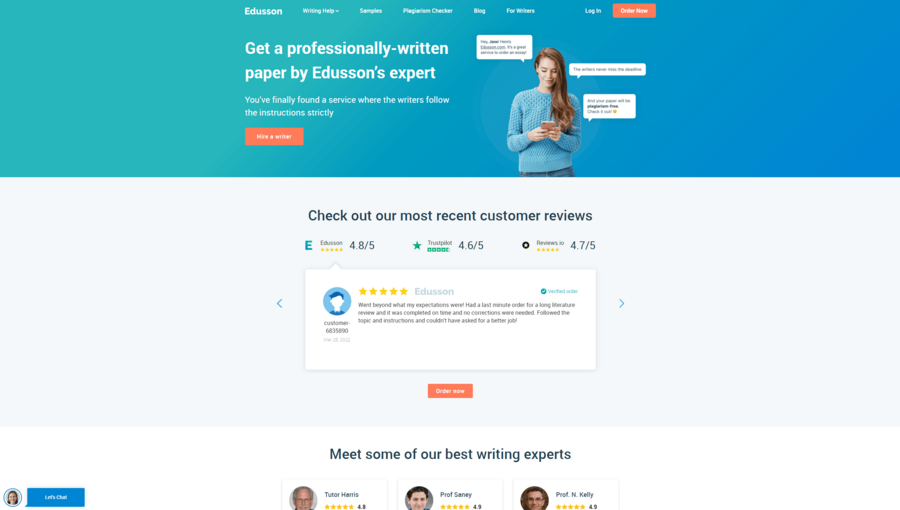 Cons
Bad website design
Confusing by the order placing process
| | |
| --- | --- |
| Owned by | Boosta LTD |
| Years in operation | 8 |
| Minimal price per page | $9.99 |
| Deadline | 3 hours |
| Revision policy | Yes |
| Refund policy | Yes |
When it comes to choosing a perfect essay writing service, it really feels like a lottery because you never know which one will provide you with a decent paper. Personally, I did not expect much from such companies; however, the company I will be talking about has exceeded my expectations. In a bad way. The following review explains why.
The company is called Edusson.com and its website tells that it is the Leading Essay Writing Platform with more than a thousand experts willing to help everyone with their academic assignments. It also tells that their writing service is private, excellent in quality, and does not tolerate plagiarism.

Basically, these characteristics have already become an industry standard and go by default. Concerning the usability of the website, it should be noted that it only contains several buttons that do the same thing forward to the order page. You either enter your email to get the instructions for making an order or simply click a button Order Now instead.
In general, the website's design is rather minimalistic and mostly focuses on describing the process of placing an order. And again, we see a Try Now button that leads to the order placement page.
I hoped to find the company's prices, revision, and refund policies at the bottom of the page, where online companies tend to place their Terms of Use and FAQs.
Unfortunately, I have not found any information about the company's prices and refund and revision policies were listed in Terms of Use. So, I had to scroll all the way down to the bottom of the website and further read a long list of Terms of Use to get at least some information about the service.
In other words, I cannot describe the website as informative and comfortable to use. In short, it just contains certain buttons that do the same thing make you place an order with them.
Customer support
Preparing for my Edusson review was strange, especially when I contacted the support agents. Students can ask questions to company representatives via the hotline, online chat, and email. But the problem is that the hotline is constantly busy. I spent about 45 minutes trying to contact support agents. By the way, my problem is not uncommon because I have seen many other Edusson reviews. Other people couldn't get these guys, either. Also, I wouldn't say I liked the online chat. So why do agents respond as if they are primitive chatbots?

I asked agents questions about the company's owner, refund policy, types of writers, and paper extras. So is Edusson legit? Even knowing that this is a real company, you will still have a lot of doubts. Support agents are very reluctant and take a long time to answer all questions. If I didn't have enough experience dealing with such individuals, I would think I dealt with scammers. As you can see, reading the Edusson.com reviews is essential for expanding your horizons and understanding what you should expect.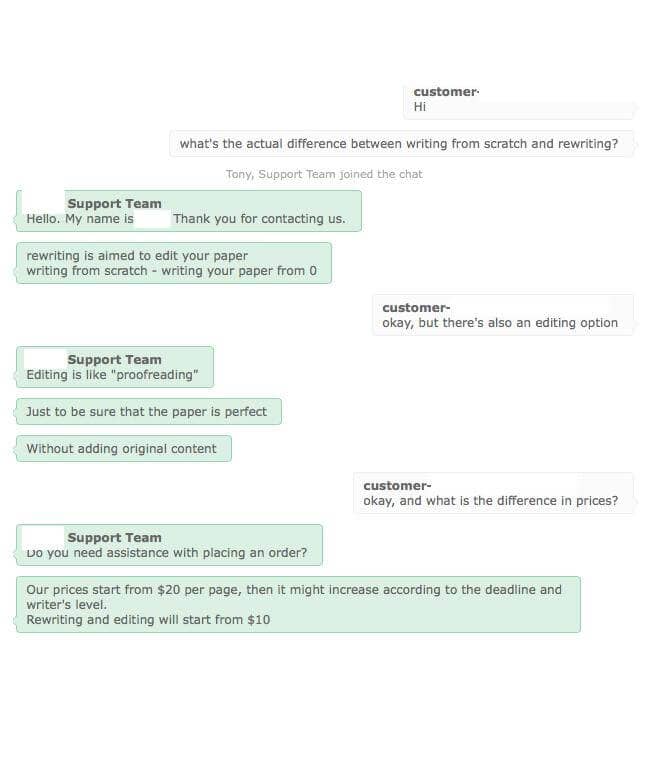 My experience
I ordered a 2-page college essay on History. Although the writer's goal was to describe the reasons for the start of the Napoleonic Wars and their impact on the military-political situation in the world, I expected to receive a well-written, well-researched essay. Unfortunately, this was not the case. Surely you want more details, so keep reading my Edusson review. Now you will know the truth.
The writer did not cover the topic well, leaving out important details and failing to provide a comprehensive analysis. Moreover, the essay was riddled with grammar and spelling mistakes, making it difficult to read and comprehend. Finally, the lack of clear transitions between ideas made it hard to follow the writer's argument.
As a result of this experience, I have learned the importance of thoroughly researching and vetting potential writers before commissioning an essay. It is also crucial to communicate expectations and requirements for the essay to ensure that the writer understands the task. As you can see, Edusson reviews allow you to find out a lot of important information before you start ordering anything.
Order form
As I said previously, the order form of the website does not really want to gather much information about the order and offer information about the price prior to paying. It simply asks for the order's details including the format, the deadline, the type of paper, etc. However, it remains unclear what exact factors affect the final price.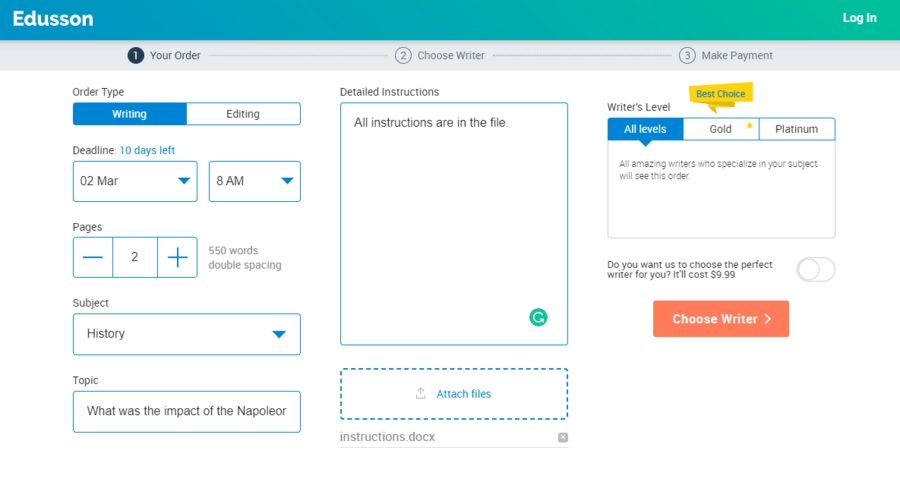 Afterward, the order form forwards you to the page where you have to find a writer according to your preference. The process is confusing and I was further overwhelmed with writers' messages asking me to choose them for the order. It seems that the only difference between the writers here is their bid, which is rather high.
Remember, the support team said that the price per page is $20? In reality, the prices are even higher.

Discounts and Loyalty Program
Having checked the real prices for the order, I've decided to ask the support team for a discount. I heard that some companies offer discounts for clients' first orders, but I was surprised that there were no discount policy and no loyalty program for the clients. I have not found this information anywhere on the website, but at least the support team told me about this.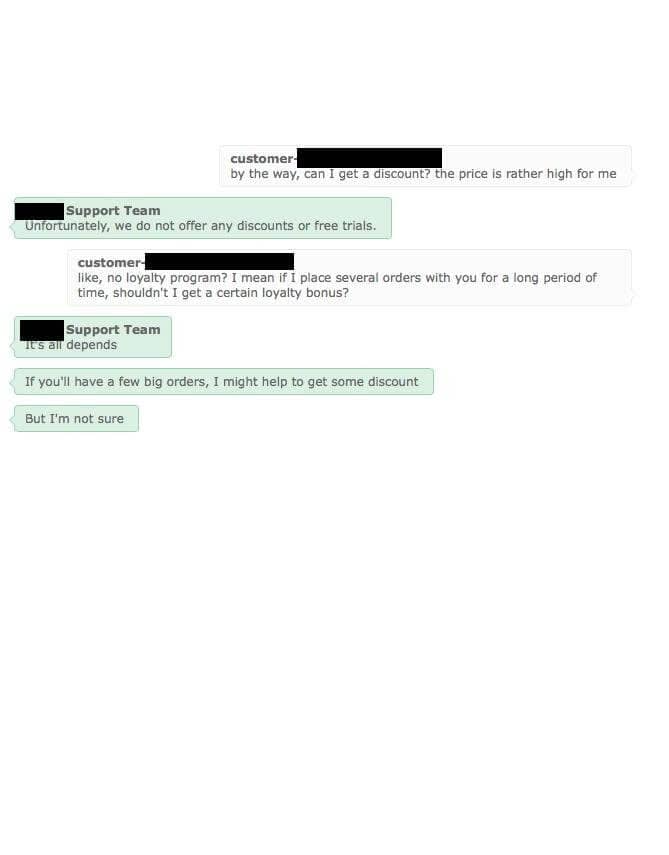 Revisions
Is Edusson legit? Let's take a look at the company's guarantees. As for the revisions, there are no relevant details concerning how many times you can send the order for revision and whether it is possible to revise the order after approval.
Obviously, I've figured that out via the chat with the support team. I did not find any relevant information on any of the website's pages.

So, it seems like anyone can get multiple revisions per order until the paper is completed accordingly. Anyway, I did not use any revisions because I thought there was nothing to revise.
Final quality
As I said, the content of the paper was fine and everything seemed okay before I submitted my paper to the university. Now imagine how big my eyes were out of surprise when I got my tutor's feedback telling that more than one-third of the paper was plagiarized and that was detected by Turnitin. Obviously, the paper was given a big F without any resubmission chance.
Writer's proficiency
I am extremely disappointed with the work of the writer I commissioned for my essay. The writing service I chose used an awkward bidding system and only hired ESL writers. The writer was slow, inattentive, and did not consider my recommendations. The work was poorly written, and I could have done it much faster.
It's frustrating to pay for a service that did not meet my expectations. In the future, I will be more careful in selecting a writing service to avoid this kind of experience. It's essential to choose a reputable writing service that hires professional, native English speakers and offers transparent pricing and quality guarantees to ensure the work is done to a high standard. As you can see, my Edusson.com review is unlikely to please fans of the brand.
People talking
Now I know that I should have checked other people's Edusson reviews. Not only the customers are disappointed by the company's services, but their writers appear to be complaining too.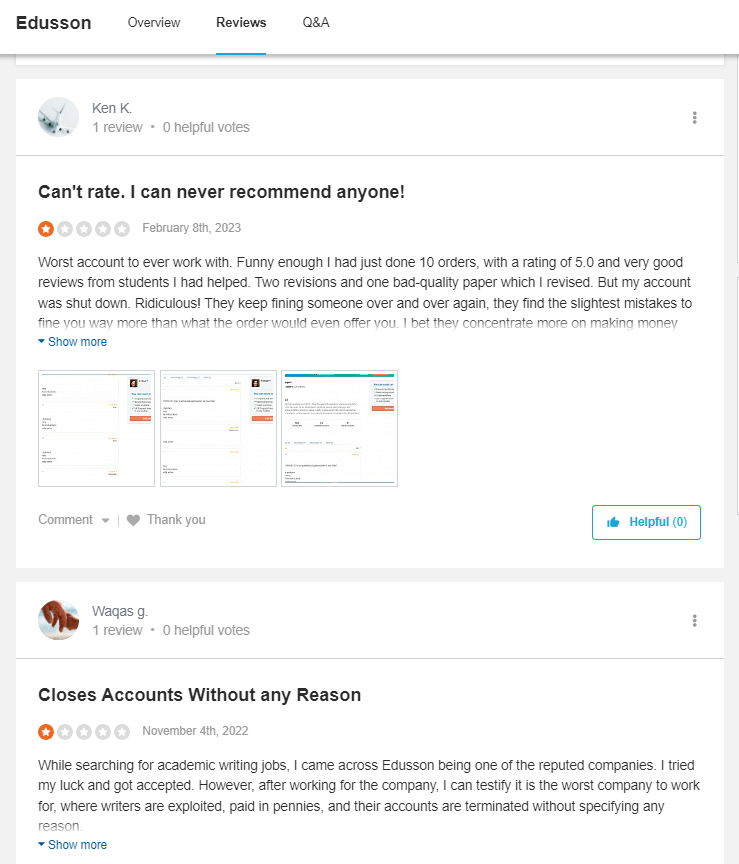 Is Edusson.com scam? I'm not the only one who has been scammed by these guys. I found quite a few negative Edusson reviews, so you should be careful. Unfortunately, these guys have crafted quite a few mediocre papers for students.
Pros and Cons
I don't personally know why someone would argue that Edusson.com provides decent quality and offers fair prices. The only positive result I got from using this website is the strong assurance that I've got to do something on my own to get it done well.
At the same time, this website has its weaknesses almost everywhere: it has a really bad and uninformative design, it hides all the relevant information from the customers, it charges colossal prices and delivers a really bad quality of service.
If you wish to be their customer, be prepared to be confused by the order placing process, spammed by unnecessary messages and pray every time you send money to get a product that rarely stands up to the company's promise. If you ask me - Is Edusson reliable? I'll not be using their service anymore and I don't recommend you wasting your time and money on them, as well.
Similar Reviews
FAQs
| | |
| --- | --- |
| Is edusson.com reliable? | No! It's an awful service that spoiled my academic performance. I got F on a paper because one-third of the content was plagiarized, and my professor didn't give me a resubmission chance. |
| Is edusson.com legit? | This service didn't provide clear information on its revision policy, so I turned to the support agent, who assured me that there were no limits for requesting free revisions. But I wouldn't trust this service. |
| What is edusson.com rating? | Unfortunately, I checked the company's rating only after receiving my low grade. There are so many mad students! Trustpilot gives the company only 3.5 stars, as for Sitejabber, the rating was 3.2 stars! |
| Is edusson.com a good service? | You know my sad story about the paper that brought me F. But the worst thing is that the writer plagiarized information not from credible sources but from a paper with the same topic. |
| Is edusson.com scam? | I'm not the first student and not the last one who has been scammed by this service. How could they deliver a plagiarized paper? Guys, please, stay away from them and find a better company. |
Comments (6)
fayeliu1927pan says:
at 2021-01-17 19:26:00
The writer missed the deadline.....so was I . I lost my 15 credits for this subject. Caused my stress so far. The quality of the final paper still was not standard: total 175 participants which I noted for the writer 3 times, in th paper still was 170. Abstract did't state the findings.....I am so disappointed.
alana.brown.phs says:
at 2021-06-13 19:28:00
The paper was NOT what I asked for. Not only am I without my assignment, I'm out 55 dollars as well.
xo.a3loom.xoxo says:
at 2021-04-30 18:37:00
This is the worse website with no qualified writers and the service is very bad.
68prizediva says:
at 2021-12-05 14:23:00
did not follow all directions
dr.emsaa says:
at 2022-02-20 17:42:00
Poor writing, The writer didn't understand what is requested !
scottjferrarie says:
at 2022-03-06 14:52:00
Support- asked me the same question multiple times and expected a digital copy of the book it was on? Now my service is 3 days overdue, paper still isn't completed and seems to be refusing to do any more revisions because they don't even have the book the paper is on......?????!!!!