Hey, want to make the most of writing services? Here's our this month's best picks:
Service with a negative reputation

Updated: March 01, 2023

Author: Will Martins
We don't recommend this service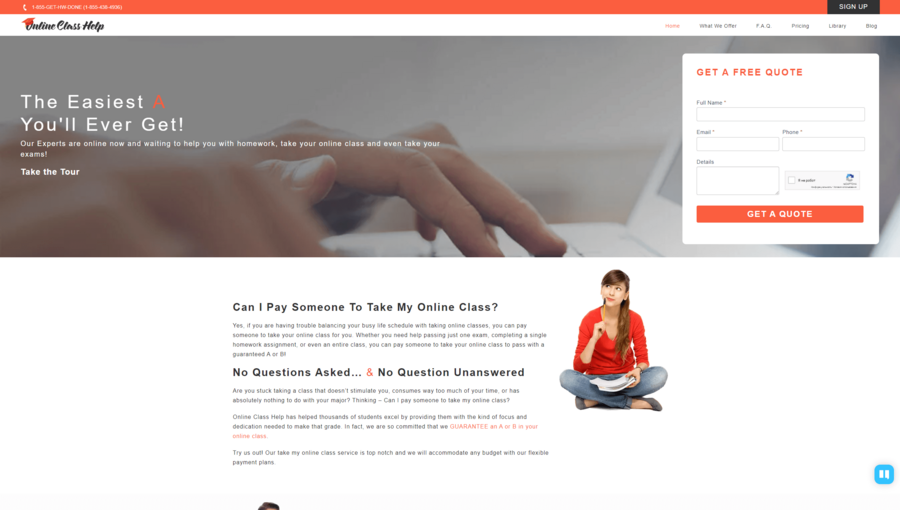 Pros
Referral program
Full refund guarantee for grades lower than A or B
Cons
Unresponsive customer support
Delays in delivery
Poor quality of work
A lot of scam claims
| | |
| --- | --- |
| Owned by | OnlineClassHelp Inc. |
| Years in operation | 11 |
| Minimal price per page | $30.00 |
| Deadline | 12 hours |
| Revision policy | No |
| Refund policy | Yes |
OnlineClassHelp has been functioning since 2010 and specializes in providing all kinds of academic assistance to college and university students. It's not a common writing service like the one you come across online, they offer assistance with taking exams, midterms, finals, and doing your homework for a certain class, for a whole course or semester once you pay for such a package.
Is Onlineclasshelp.com legit? I had my doubts. Sure, they claim to be "the best essay writing service in the business." Who doesn't, though? The only way to find out whether any of their promises were true was by conducting my own research, and this OnlineClassHelp review contains the results.
Customer Support
When I decided to contact customer support, I was met with a message of the OnlineClassHelp representatives not being online at the moment. Instead, I was offered to leave my message, which I would be answered later.
I did and kept exploring the site, which, to be honest, has nothing impressive about it and feels incomplete, lacking a lot of answers I could get without going through the trouble of contacting them.
It turned out the customer support is only available from 9 A.M. till midnight (till 9 P.M. if you plan on calling them), which is mentioned on the site, but not in a very noticeable manner.
Since there is no Contact Us tab, I just assumed they offered 24/7 assistance like most similar services out there. Is Online Class Help reliable? Not in the means of communication, because even during the working hours they really took their time to answer me, and I had to make several attempts.
My experience
Due to this not being the first writing service I've reviewed, I can tell a lot just by visiting the site before I even read any Online Class Help reviews. And as a rule, my hunch is right.
For example, this site looks very generic, and I bet people behind OnlineClassHelp have several other pages like this online, with the same team of "experts" responsible for doing the work.
Speaking of experts, there is no information about them, except that they are very experienced and very great at doing their job. Oh, and that they are US-based, but you're supposed to take it all for granted.
And instead, you'll be providing your login information for them to pass your exams and complete your assignments. Is OnlineClassHelp safe? I was reluctant to believe so simply because it's stated on the site.
I placed an order, I needed a two-page essay on Climate Change. It was sent to me 5 hours after the promised deadline. OnlineClassHelp guarantees that the work they do will not get anything lower than a B; otherwise, they promise a full refund. Although I only ordered an essay to check the quality, I could see it was not worth even a C. There were some typos and not much info about Greenhouse gases, one of the biggest causes for climate change. The writer also didn't mention the ways to prevent or slow down climate change, so I bet he had no wish to delve deeper into the details to make my paper compelling.
Maybe their experts do a much better job as regards tests and quizzes, but writing essays isn't their strong suit for sure.
Order Form
Most services try to make the order form as simple as possible but at the same time the information you indicate there can minimize the necessity of additional communications and calls. When I read Online class helpers review saying that OnlineClassHelp has a simple order form I wasn't expecting that. When you go to the "Get a Quote" button you see a form, where you have to indicate your name, email, and phone number instead of the essay topic, number of words, spacing, and all other details that will be useful to find out the approximate price of your paperwork. After that, you just have to sit and waste your time waiting for their reply. First of all, I'm not so willing to give my details to a service I'm not sure I will use. Because, second of all, I don't know even the estimated price of my essay before the sales personnel contacts me. So don't trust all Online class helpers reviews you see online, and be ready for a pretty long ordering process.
Discounts and Pricing
The pricing is very unclear. OnlineClassHelp doesn't have a simple table with some average prices to let you know whether you even want to get a quote. It's all to be figured out for each customer and order separately. I did find some prices in the library, and for all subjects, it's as follows:
Class: $500 and up

Essay: $30 and up

Homework/quiz: $40 and up

Exam: $75 and up
There are no further details as to what exactly these prices are shown for, and it's stated once again that you have to contact them to find out the real price for your order.
The only way you can get an OnlineClassHelp discount is by participating in a referral program. They offer a $50 discount on services for every one of your friends who sign up for a whole course.
Revisions
In one of the Online Class Help reviews I read that OnlineClassHelp can promise their Clients free of charge multiple revisions, but I looked through their webpage several times and managed to find neither the section about the Revisions Policy nor the confirmation of the statement of that Online Class Help review. And what surprised me, even more, when I was looking for a revision policy in the section of Terms and Conditions, is that it contains absolutely the same information as the section Privacy. I didn't get what was the point in such a repeat of info, just check it yourself on the two pictures below. The only difference between them is caused by some misprints, and that looks really strange for me because how do you expect to Clients to place orders when even your webpage contains mistakes, Not a very good advertisement. And I also don't understand why any Online Class Help reviews mention this.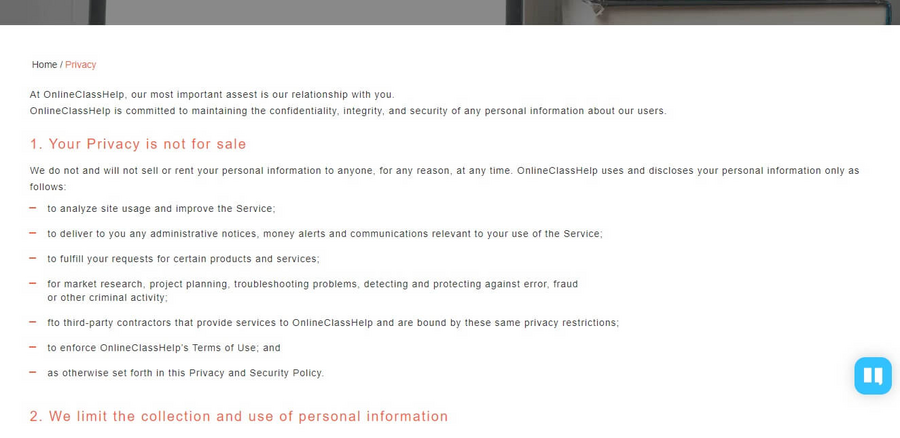 Writer's Proficiency
When I first read some negative Onlineclasshelp.com reviews I anyway decided to try this service and was totally disappointed by the final results. My essay topic wasn't something extraordinary, just a simple 2-page English essay. But after reading what I got I had a feeling that it was written by someone who is just starting to learn English. as if they had A1 level and I asked them to write an essay for IELTS academic English. And judging from numerous OnlineClassHelp reviews I found online, other customers were not any luckier.
People Talking
I checked the usual review platforms first, and while Trustpilot had no record of this company, SiteJabber contained not just a single OnlineClassHelp review but 13. Eleven of them were negative. The customers wrote that the service was a scam and not worth the hassle.
I then looked for some Online Class Help Reddit reviews but came empty-handed. When I pursued my search, I came across multiple complaints on various sites and only a few favorable comments.
Some people wrote that they paid OnlineClassHelp hundreds of dollars for assistance with a particular class but didn't receive it, or the quality of the delivered assignments was poor.
There were clients who wrote about the failed tests. Login details of the customer were used without his consent. Such behavior is a sign of a scam, no doubt.
Is Online Class Help scam? Look, either all these people are lying, or OnlineClassHelp is. Judging from my own experience and what I've seen on the site, I must agree it is not a trustworthy service.
Loyalty Program
There is no loyalty program, but you can get a package deal if you plan to get assistance for an entire course, and it's supposedly cheaper. However, since OnlineClassHelp charges you upfront, this seems like an attempt to get the most money from you at once, so I would advise being very cautious before doing it.
Similar Reviews
FAQs
| | |
| --- | --- |
| Is onlineclasshelp.com legit? | You can notice the promises of free reviews, but in reality, there is no revision policy. So technically, customers can not count on it because their support agents can easily refuse their free revision requests. |
| Is onlineclasshelp.com scam? | No, but you should not count on professional help there. As I wrote above, the paper quality was low, and it was not worth even a C-. |
| Is onlineclasshelp.com reliable? | They missed my deadline and delivered the paper 5 hours later! I believe this is the worst thing a service can do, as deadlines are extremely important to students. |
| Is onlineclasshelp.com safe? | I doubt it. I wanted to read its Terms and Conditions, but having clicked on the button, I went to the "Privacy" page. Maybe it is just a technical problem, who knows. |
| Is onlineclasshelp.com trustworthy? | I did not find many comments on SiteJabber and Trustpilot but read large reviews about disappointing experiences. Maybe there are fake, but judging from my experience, they sound like the truth. |
Comments (9)
christo.evan says:
at 2021-01-16 16:09:00
I failed the assignment.
ashley.maggieyang says:
at 2021-03-02 09:08:00
Copy and pasted from yahoo question
rochywen says:
at 2021-02-19 09:08:00
very bad. bad paper i have ever seen. And i got E in this paper Never choose
koshadalton says:
at 2021-04-25 17:27:00
Never will recommend this service.
christinatakagi says:
at 2021-06-06 15:17:00
Almost the entire paper was paraphrased from the original resources.
atfree23 says:
at 2022-02-08 17:07:00
The paper only listed the process, nothing spoke of best practices or comparisons, nor was journal articles used.
armandfouad says:
at 2022-02-25 22:18:00
clear instructions was not followed from the beginning, required more time to provide more sources.
dustin97824 says:
at 2022-03-12 15:27:00
The writer didn't change anything or didn't edit my paper within the required time, then i give him 8 more hours but the writer gave some wrong paper which is belongs to someone else, the third time the writer can not finish before my due time, if I submit my homework one minute after the due time I will lose 20% of the mark. So I ordered another one which is the same paper I sent to this writer on the website, but this writer already waste my money and I didn't get any benefit from him. I will no longer use this website.
deshbabsadesanya says:
at 2022-03-27 19:39:00
After several requests for revision, the essay and powerpoint were barely revised