Hey, want to make the most of writing services? Here's our this month's best picks:
Service with a negative reputation

Updated: September 08, 2022

Author: Will Martins
We don't recommend this service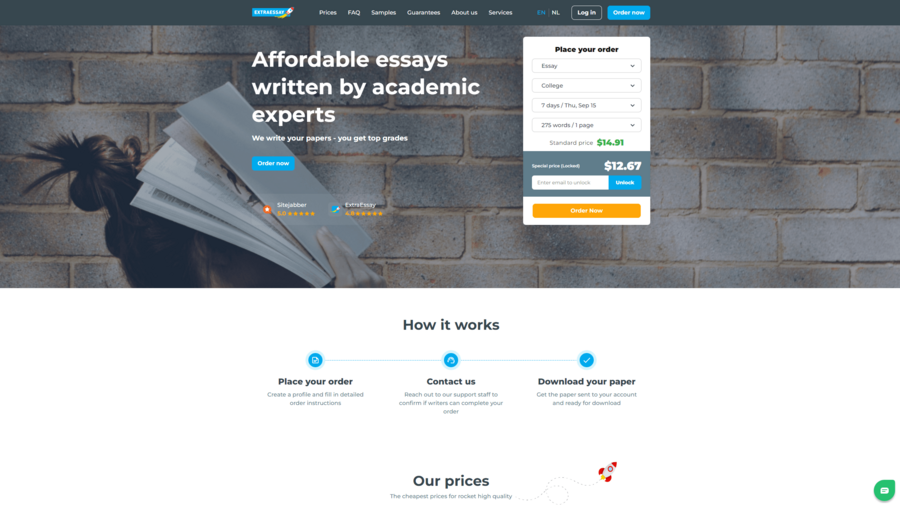 Pros
Quite affordable prices and cheap extras
Great discount policy
Friendly and helpful support team
Unlimited revisions within ten days after approval
Cons
Doubtful user-friendliness of the website in general
Mediocre level of writing
Order form may lag and may require resubmission of your details
You should order extras and spend more if you want an above-average paper
| | |
| --- | --- |
| Owned by | Dragonet LLC |
| Years in operation | 7 |
| Minimal price per page | $9.00 |
| Deadline | 1 hours |
| Revision policy | Yes |
| Refund policy | Yes |
Hello everyone!
Another day another review. Today we've got an ExtraEssay review. It is a company that has both strong sides and some weaknesses that may scare potential clients away. I mean, it's definitely not the worst paper writing company you can find online, but it's not the best one either. Let me explain it in detail in a comprehensive Extra Essay review.
Is Extraessay legit? It is said in the FAQ that their service if legal and it is not prohibited using it. The company offers papers for money and tries to assure us that using their services is absolutely safe.
As always, the website's design is a matter of taste. For me, the combination of grey and blue colors works really great. At the same time, I admit that for someone, this website may seem a little bit dull. Anyway, the website's front page offers sufficient information about the service, gotta admit that. It contains the price calculator, some FAQs, samples of their works, a guarantee section, and a buy a paper section.
The support team
It was specified in one ExtraEssay review that the company offered a fast-to-respond and helpful support team. In fact, surfing their website, I came across three different ways to contact the staff. While the phone call and email seemed to take much time, I decided to use an online chat. Well, everything did not go as well as I thought, and I had to wait for around 20 minutes to get a reply, but the assistant provided clear answers to my questions. Check my chat with Mary from the Support Team to understand what I am talking about.
As you can see, I was wondering about the company's discount policy. Mary did not only reply to my question but also made a screenshot for me illustrating the policy. Additionally, it is inevitable to note that she was really friendly. Even taking into account that the speed of answer could have been better (and faster), the overall responsiveness and willingness to help shown by Mary was quite admirable. I'd rate my experience with the Support Team as 4 out of 5.
My experience
After a pleasant conversation with the Support Team representative, I decided to order a 2-page essay on Religious Studies with a relatively short deadline. It was mentioned in many ExtraEssay reviews that the online calculator offered on the main page was quite accurate, so every customer had a chance to estimate the approximate cost of the assignment before placing an order. A standard 2-page college-level essay delivered in 3 days cost me $38. The hardest was to submit the order because, as you can see on the screenshot below, the order form was processing the data for too long.
Eventually, I was given a writer to work on my order, and it was not the best experience either. I had to send the order for revision twice to improve its overall quality. What was wrong with the paper? Well, it had nothing to do with "Biblical archeology and its main discoveries." The paper did not contain relevant facts or historical evidence that could reveal the theme. Besides, no structure or chronological order could be tracked. Only random data and subjective thoughts.
Should I also mention tons of mistakes and typos that made me doubt the proficiency of the writer? It seemed that the text was created by a complete amateur who did not have a hint of English grammar and punctuation.
In the end, I got a decent paper that brought me a passing grade; however, I didn't like the fact that I had to spend additional time revising the paper.
Order form
The order form of the website is quite simple and adequate despite the fact that I didn't like the fonts of the order form. Anyway, if you're not a snob like me, the order form won't be an issue for you. It has all the required fields for you to choose the type of work, the deadline, the academic level, etc. and successfully pay for the order.
It will not be complicated to succeed with the process, even if you have never done it before. Keep in mind that your main task is to follow the instructions and provide the writer with as many details on the project as possible.
At the same time, I didn't like the fact that these guys don't offer their work on urgent deadlines. Their minimum deadline is 24 hours. You can still choose a shorter deadline but the company does not guarantee they would manage to complete your order within it.
Discounts and pricing
Remember I told you that you won't find any information about the discounts offered by these guys? I don't really like that they keep their discount policy a secret; but, I like that the Support Team shared this info with me. In short, you can have a 10% Extraessay discount code for your first order and you can accumulate a discount percentage with each order you make consequently.
With your 25th order, it is promised that these guys will give you a 15% discount, which is not bad, right? Moreover, their prices are quite affordable. Check the screenshot above, where the prices are illustrated. As you can see, depending on the deadline and academic level, you can find different prices for almost all budgets.
Additionally, you can order an Advanced Writer (+25% of order's price), copies of the sources for $10 and even additional proofreading performed by an experienced editor, which costs an additional 15% of the order's price.
It's good that these guys provide such services but I've got an issue with the "additional editing" service. I thought a client did not need to order additional editing for the paper to be proofread. It's the writer's job, right?
Revisions
As you remember, I had to send the paper for revision two times because the paper was not proofread carefully and attentively. Eventually, it helped to get a better paper. And it's really good that ExtraEssay provides revisions within 10 days after the order's approval. It's good that they are willing to revise their papers for free. It's not good that I didn't have a chance to receive a decent paper on the first try.
Writer`s Proficiency
Unfortunately, I was not given an opportunity to select a writer, so I had to accept the one they assigned. However, according to numerous Extra Essay reviews, the company claimed to hire only experienced and qualified writers to work on customers' orders.
In fact, the writer's proficiency was significantly better than his level of English. I suppose I received a paper from an ESL writer. The number of typos and spelling mistakes was way too high. Although the writer was not really proficient in Religious Studies and the content of the paper was irrelevant, his grammar and punctuation were even worse.
As a result of two revisions, I've got a passing grade for my paper. However, I also think that you might consider paying for the more expensive writer if you want to get a paper of higher level. I believe that's why ExtraEssay has got "Additional Editing" extra just for these cases.
People talking
Sitejabber does not have any negative reviews about the service, with three stars being the lowest rate.
Then, I decided to check Extraessay Reddit reviews and found just one video where the lady thanks to a company for her literature assignment.I could not deny that the guys were definitely not the worst on the market, but I wonder why nobody wrote a bad review? It made me really suspicious.
Only positive reviews that look robotic and standardized cannot objectively evaluate the customer experiences associated with these websites. Therefore, if I were you, I wouldn't trust these guys. As I have already told you, ExtraEssay is not as excellent as it claims to be.
Loyalty program
It's only the discount policy that is somehow associated with the loyalty program. I did not find any referral program or some special offers for old and returning clients. Anyway, having higher discounts with more ordered papers is also a good method of stimulating buyers' loyalty.
Similar Reviews
FAQs
| | |
| --- | --- |
| Is extraessay.com legit? | ExtraEssay is ready to polish papers for free and provide 10 days for requesting free revisions. I had to ask for it two times, but it really helped to improved my paper. |
| Is extraessay.com scam? | Fortunately not, its writer did my paper, and the content was quite good. However, I requested several free revisions to make it perfect and remove mistakes. |
| Is extraessay.com reliable? | If you have time and your order is not urgent, this service can be a good option. My paper contained mistakes and some typos, so I asked to edit it. |
| Is extraessay.com safe? | It seems so. The offered privacy policy is strong, so you should not worry about your confidentiality. They also have a money-back guarantee, but I recommend reading it before placing an order. |
| Is extraessay.com trustworthy? | I tried to find it out and noticed a suspicious thing. There were no negative reviews at all! I think they just delete negative ones because my paper was not so perfect for praising them. |
Comments (7)
cjincali1959 says:
at 2021-01-24 19:40:00
Didn't use support agents but everything else was great!
escusez.moi113 says:
at 2021-03-18 22:02:00
Support agents don't understand when communicating with them Not likely to recommend
tutu.1.gh says:
at 2021-03-26 15:41:00
Not at all I only received the final draft without my input i was not really satisfied with the outcome. i was expecting something much superior base on the amount that i paid.
sam.curtis666 says:
at 2021-05-19 23:04:00
The paper had to be sent back for multiple reviews... The paper is not of the quality that i expected
aruba_madnes_world says:
at 2022-01-11 18:04:00
Horrible service and final paper yet seems pretty bad and repetitive
imihrzad says:
at 2022-02-20 19:16:00
i paid for a PRO Writer, yet it had so much grammatical mistakes and it was written with very poor language!!!
lake.michael.j says:
at 2022-03-29 12:07:00
The second paper sent to me was significantly better than the first. It still had some issues, but I can deal with it.