Hey, want to make the most of writing services? Here's our this month's best picks:
Updated: January 11, 2023

Author: Will Martins
Short overview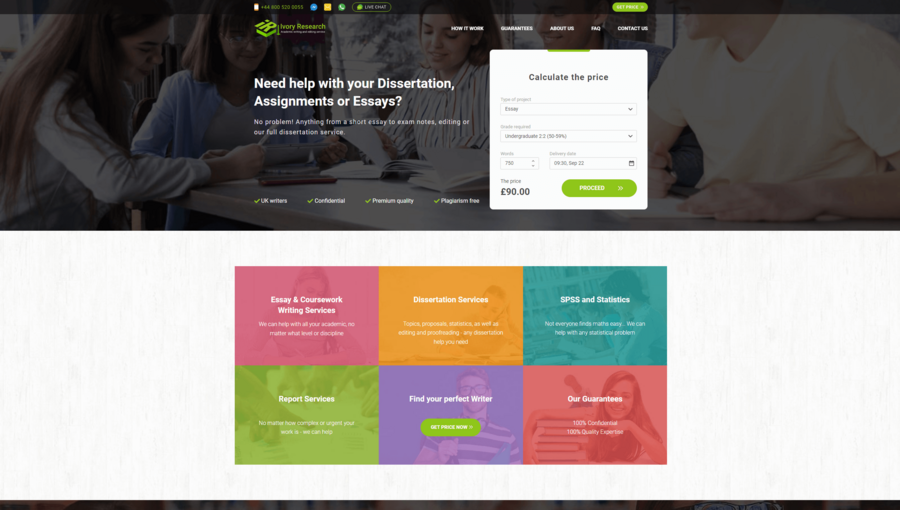 Pros
Excellent paper quality
Free revisions
Responsive customer support
Various discount options and a referral program
Cons
No table with prices, you need to fill in the order form to find it out
Not the most affordable prices
| | |
| --- | --- |
| Owned by | Ivory Research Co Ltd |
| Years in operation | 12 |
| Minimal price per page | $120.00 |
| Deadline | 3 hours |
| Revision policy | Yes |
| Refund policy | Yes |
Ivory Research offers academic writing and editing services, there's nothing new here. I knew better than to trust a decently-looking website and promises of high quality.
A lot of positive feedback, however, gave me hope. It seems this UK company has a high rating online, but its prices are just as high. I would think twice or even thrice before paying such money, but like in any other case, it all comes down to my own experience with the service, which is documented in this Ivory Research review.
Customer support
There's a UK phone number you can call, other options are a live chat and Facebook Messenger. Although I used the live chat to ask my questions, seeing how popular Ivory Research is on Facebook (over 90 thousand followers) was promising. As for the work of this department, I was completely satisfied.
My experience
Is using Ivory Research cheating? Well, no, because, according to the site, you should not submit the completed paper as your own but use it as a reference, a guide that will help you write your own paper. Since this is a registered company offering legitimate help to students, it's no wonder they have such a condition.
On the other hand, many of you wouldn't want to pay such a high price to end up with a paper you can only use as a sample, right? Well, it's stated that your paper will not be published or shared with anyone else (unless you request a refund, and they publish it in the Samples section to make sure you can't still use it).
Order form
The order form is pretty convenient, straightforward, and consists of three steps:
Providing order details and getting a quote
Selecting additional features if needed
Making a payment
Discounts and pricing
To learn what Ivory Research prices are, you need to fill in the order form. There are different grade options, but I am not sure what their point is, because switching them does not influence the price. Well, unless you choose Ph.D., that one will increase the cost almost 10 times. It also seems that the price can change as a result of various combinations of the required grade, number of words, and delivery date.
So, you should use the form to find out the price of your particular order, but to give you an example, it seems that an essay and some other assignments under 600 words with a 3-day deadline cost $120. More words and closer delivery date result in an increase in that price, naturally. Setting a longer deadline, however, has no effect.
I was welcoming any discount I could get to reduce my order price, and there are several options, but only a couple letting a new customer get an Ivory Research promo code. So, I managed to obtain a 5% discount by visiting the Facebook page and sending my email in DM.
Revisions
Luckily, I needed no revisions, but you can get three of them for free within 10 days after the order approval (14 days for orders over 20 pages).
Final quality
Once again, I was completely satisfied with the final quality, which is expected when you pay so much for a paper. And while I know, that sadly, a high price is often not proof of high quality, it is with Ivory Research.
Because the writer seemed to pay attention to my initial instructions and even asked some additional questions, he was able to write an excellent paper I was hoping to receive.
Writer's proficiency
It seems that Ivory Research writers truly are the professionals the company boasts about. All of them hold UK degrees, and the company compensates them well for amazing work, which actually explains high prices on this site.
Therefore, you may not want or be able to afford using their services for every essay or other simple assignments you've got, but I would use their assistance for larger and more difficult papers. These people know how to write them properly, and I am willing to pay for their skills and experience.
People talking
Since a sufficient amount of positive Ivory Research reviews was what made me use this service in the first place, I was happy to learn that they were real when I got my own paper.
Another thing that got my attention was that the reviews posted on the site are actually imported from review platforms like TrustPilot and SiteJabber rather than being written by who-knows-who and blatantly posted on the site, praising its services.
Loyalty program
Besides a generous referral program, there are discounts for returning customers. When you order four papers, you get a price reduction on your next paper, and your tenth order will be done for free (provided it's no more than 2000 words with a required grade of 60-69% for an undergraduate level).
Similar Reviews
FAQs
| | |
| --- | --- |
| Is ivoryresearch legit? | I think yes, due to the company's rules. Students cannot submit the written papers as their own but use to guide the writing process. |
| Is ivoryresearch scam? | It's not a scam service, and I got a well-written paper from them. The assigned expert even asked some additional questions to provide a good essay for me. |
| Is ivoryresearch reliable? | I think so, but be ready to pay a high price for it. I ordered a simple one-page essay, and the price for it was $90! |
| Is ivoryresearch safe? | I didn't ask for a free revision, as all my instructions were followed. However, they provide 10 days after paper delivery for making changes. |
| Is ivoryresearch trustworthy? | Yes, and you can find many positive Ivory Research reviews on Trustpilot and SiteJabber. Moreover, I liked that they publish reviews on their website from independent platforms and don't provide fake ones. |
Comments (6)
stevencolonbaseball says:
at 2021-01-22 22:52:00
There were quite a few errors, but other than that I did like the paper.
rsm9910 says:
at 2021-03-26 17:15:00
Although I had to ask for two revisions the end product is exactly what it needed to be. Thank you for working with me to produce an excellent paper.
Nicktv99 says:
at 2021-06-11 17:27:00
Pretty good paper a few little touches that I can do myself to get my personal writing in there. Although I didn't need anything they're always there.
w961403650 says:
at 2021-12-28 22:34:00
Fucking agent Max, the worst agent I met in this company. Fucking delay more than 1 week.
jaikanodia says:
at 2022-02-11 18:41:00
This is very sad. I was offered a TOP writer upgrade to have my views on this company resurrected, but no. The comments are not followed, and I just wasted a lot of money. Never using this company again!
kiranaugust98 says:
at 2022-03-14 19:12:00
Paper had minor grammar mistakes. Nothing too serious.