Hey, want to make the most of writing services? Here's our this month's best picks:
Service with a negative reputation
Updated: January 11, 2023

Author: Will Martins
We don't recommend this service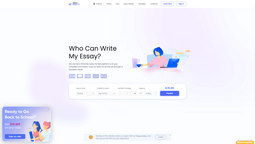 Cons
Really low paper quality for the price you pay
Rather mixed reviews about the company and the service
Absence of urgent orders
Limited number of extras
| | |
| --- | --- |
| Owned by | Edu Storm Ltd |
| Years in operation | 8 |
| Minimal price per page | $15.00 |
| Deadline | 3 hours |
| Revision policy | Yes |
| Refund policy | Yes |
Without further due, let's talk about Writemyessay4me.org and figure out why you shouldn't consider their service if you are in need of a cheap and not bad paper in terms of quality.
Having taken the first look on the website's main page, I've become really suspicious. From my personal experience, I can tell that there should have been something cheesy under cover of a really beautiful website.
I mean, look at the screenshot above, the website looks cute. Okay, maybe I'm fond of purple color (which is true btw) and maybe I like the font (which you could find on old-school memes on Vine), but it's not only that.
It's also the page layout that is clear, easy to understand, and user-friendly.
Also, I appreciate the fact that the price calculator contains all the necessary info you need to get the price of their papers.
The same goes for buttons above, which transfer you to the respective pages with important info about the service or the order form. Everything works smoothly, and it's easy to browse the website and read its content.
Support team
In short, the Support Team provided all answers to my questions. I've been talking with Megan, one of their agents, and my experience was overall positive. Check the screenshots below to see for yourself how they treat clients.
You'll see some more screenshots from my communication with Megan in order to illustrate some of their policies, but for now, I hope you've seen that the Support team provides adequate answers.
My experience
I just wanted to have eight pages for my English class to be done in the shortest amount of time possible, but I also did not have enough money to pay several hundreds of dollars for this. So, I've decided to test my luck and place an order with these guys.
I haven't received my paper in 24 hours just like I had ordered, it came one day later, and it wasn't really well written and proofread. The price of this paper was $240. I paid so much money and got such a low-quality assignment. Shame on you guys.
Order form
Despite the fact that I've got some concerns about the convenience of their order form, it was still adequately made in order to gather all the relevant information, inform the buyer about the price and collect the payment.
By the way, they are accepting both PayPal and credit card, which I appreciate because I prefer using PayPal when it's possible.
The choice of fonts and the overall design is rather questionable, and I would have advised them to use something more comprehensive and user-friendly.
For me, there's too much overlapping between the respective sections of the order, and it's really easy for me to forget including something in the order details. But maybe that's because I'm just lazy and inattentive.
Considering extras, they don't have that much. They are offering only more expensive writers to work on your order, which will cost $60 extra. At the same time, you can forget about the urgent deadlines here.
Writemyessay4me works only with the deadlines longer than 12 hours. I mean it's not really bad; however, I guess more buyers would appreciate having the possibility to work with 3-6 hours deadlines.
Discounts and pricing
As you might have already noticed, these guys offer a 5% writemyessay4me.org coupon code for new buyers, and they offer 10% and 15% for more long-term clients. Keep in mind, you've gotta spend more than $2000 on orders to get 15% which is a quite big sum of money. This discount will be available only if you order papers regularly.
Writemyessay4me.org prices are medium. $12 per page is not the lowest price on the market, and it is possible to find much more affordable services. You can see the price calculation table for yourself and choose the most appropriate price.
However, I've got questions concerning their Free Features. All the features like plagiarism check, unlimited revisions, reference pages for your paper are not really free features because these are the vital components of each and every paper that you get from a custom paper writing service. Anyway, I hope that these free features will look like valuable benefits for new buyers. In total, it's not expensive to order a paper from these guys, which is already an advantage.
Revisions
Check the screenshot of my dialogue with Megan from the Support Team:
In total, these guys are eager to revise the paper as many times as it's needed, and they are ready to assign a different writer for a revision, which is undoubtedly good. Their revision policy mentioned in FAQ section also tells that the revision request can be sent in 14 days after the order's delivery. But keep in mind, if you decide to send your paper for amendments in two weeks, you won't be able to do it.
I haven't used the revision option because my paper was delivered after the deadline, and I simply had no time for revisions. I gave it to my professor just right after I've got it.
Final Quality
After submitting my paper, I've got D+. My professor said that that the paper contained certain inconsistencies and he was not capable of clearly understanding what was written here.
I have argued with him about the grade, but I failed. He said that I had brought it after the deadline, and it also influenced my grade.
Writer's proficiency
I've got an account on the website once I registered here and paid for my order. I've had a possibility to write him several messages clarifying some points that were not initially indicated in my paper's instructions. He or she promised to include these amendments to the order, but it wasn't done, because my paper was of low quality.
I gotta admit that the writer here did not seem to be a native speaker. I don't really know whether my writer was Ph.D. or Master of Sciences. To my mind, clients have a right to know such info. It is vital if you want to get a high-quality paper.
People talking
My experience was rather negative with this company. The writemyessay4me reviews on various online platforms are mixed and highly uncertain. For example, here are the reviews on Sitejabber:
I've found a lot of bloggers and reviewers making rather negative reviews about these guys, which I really understand. Maybe they were unlucky too. I wouldn't recommend this service to those who appreciate time and money.
Loyalty Program
I won't repeat the same words I've said about their discounts and loyalty program. The more you order, the bigger the discount you get. It's quite hard to get the maximum discount, and you have to purchase papers regularly.
Similar Reviews
FAQs
| | |
| --- | --- |
| Is writemyessay4me.org safe? | I didn't find a lot of information on its revision policy, only some mentions on the FAQ page. But the support agent assured me that it was possible to polish papers within 14 days. |
| Is writemyessay4me.org fraud? | They didn't meet my deadline, and I got a paper one day later. In some way, I spent $240 on nothing! Of course, my professor didn't like it and put a low grade. |
| What is writemyessay4me.org rating? | There are not many reviews on SiteJabber, but the company's rating is 4 out of 5 based on 19 feedback. I also checked different independent platform where ratings ranged from 2.3 to 3 stars. |
| What do writemyessay4me.org testimonials say? | It is difficult to give an exact answer because their online reputation is a mix of 1-star and 5-star reviews. However, most of the testimonials say about low quality and missed paper instructions. |
| Is writemyessay4me.org scam? | Having spent a huge amount of money, I didn't get the promised professional help. The paper contained some inconsistencies, and the writer also ignored the additional instructions that I sent later. |
Comments (4)
sasmoot05 says:
at 2021-01-22 19:23:00
not satisfied with the quality of the paper, the writer didn't follow my detailed instruction and the mla format for the work cited is still wrong. So i truly believe that this is not the writer whom i requested
mforget91 says:
at 2021-02-20 09:52:00
Just a shame I had to repay 340$ to get the same paper done, the first one was of mediocre writing quality (even if I paid for a TOP writer !).
zamanzamane969 says:
at 2021-03-23 21:03:00
I paid 15 pages with Pro Writer for the best quailty of paper. (I still dont understand what is diffrent than other writer as I see on the paper it is same quality) Also I sent Whole source and structure of the paper as pdf and word. I wrote all important issues of paper. But I got, 14 pages including refrences pages that means 12 pageswith short Conclusion. Your writers not make sense with the subject when they write it. Thank you
sunxing22 says:
at 2021-05-17 17:09:00
very bad PAPER QUALITY , wont recomend your service and wont come back again