Hey, want to make the most of writing services? Here's our this month's best picks:
Service with a negative reputation
Ace-myhomework.com review

Updated: January 11, 2023

Author: Will Martins
We don't recommend this service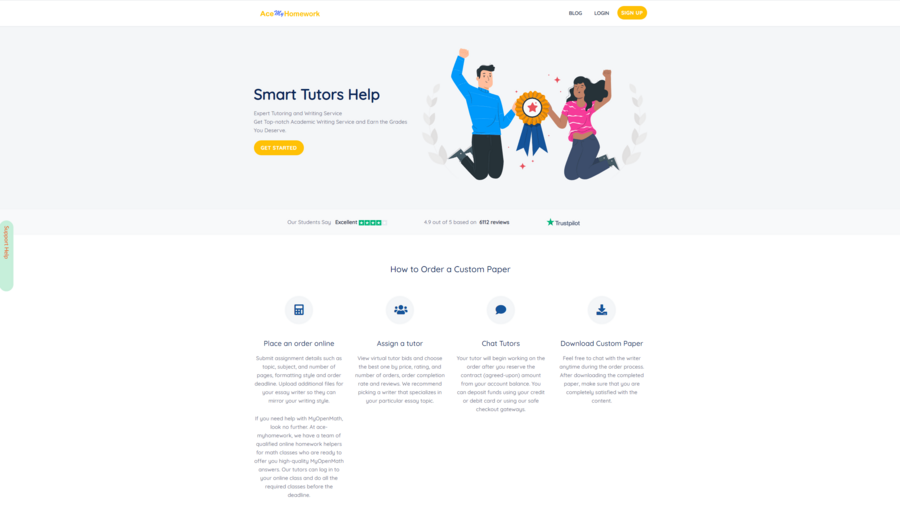 Pros
Adequate customer support service via live chat
Cons
Horrific writing with no structure and no research
A weird and glitchy website with a confusing layout
| | |
| --- | --- |
| Owned by | Not Given |
| Years in operation | 5 |
| Minimal price per page | $15.00 |
| Deadline | 24 hours |
| Revision policy | Yes |
| Refund policy | Yes |
When I first came to this webpage, I thought it was a joke. No info on anything, just a login form. It looks like it has been slapped together by a middle schooler using a free template. It's also glitchy and seedy as hell.
By the way, if you notice another website like acemyhomework, it might be ace-my-homework.com, a clone site owned by the same company.
Customer support
I used the live chat to get in touch with Loice and learn more about the "tutors". According to the support agent, only 80% of the employees are native speakers, though I doubt this number is accurate.
It wouldn't matter if I needed Ace My Homework Math help, but for essay writing, it was among my top concerns. Loice also assured me that all writers had Master's degrees or above, though I didn't trust this claim either.
My experience
One thing I can say for sure is that I hate how Ace My Homework works. It's a stupid and useless bidding system that takes too much time and doesn't guarantee good results even after you waste hours waiting for bids and talking with tutors.
I should have known better when I skimmed the homepage.
Don't repeat my mistakes; learn from them!
Order form
I don't get why I had to sign up for an account before gaining access to the order form. It was pretty standard. I filled in my paper info and set the number of pages. I noticed the default deadline was set at six hours, which surprised me a little.
The option to send paper instructions to a Gmail address also seemed weird.
When I missed one of the fields, the website didn't highlight it or show a tooltip. Instead, it went dead, and I had to backtrack and fill in the form again. It was a huge waste of my time.
Discounts and pricing
The fun thing about this company is that you never know how much your paper will cost. I specified my budget in the order form and set it at $45 for three pages. I got two bids, and both of them were higher.
One was $49.50, and the second - $55. I had little confidence in this website and decided to go with the cheapest option.
Ace My Homework payment system is bizarre too. You have to add money to your account before accepting the writer's bid. At least, you can use PayPal for secure payments. The company also boasts a 14-day Money-Back Guarantee, but I couldn't find its terms anywhere.
Revisions
My paper was beyond salvation, so I didn't bother with revisions. There is no mention of a revision policy within the Terms of Service, so I'm not sure there is any chance to get the tutor to rework the piece. If you have any luck with this, let me know.
Final quality
The paper I got was awful. The writer didn't bother reading my instructions or do any research on the topic. They relied on Wikipedia and personal opinion to write my argumentative essay.
It looked more like a blog post or a rant than a structured piece I could submit to my professor. I'm also 90% sure the writer was not a native English speaker; some of their phrases were just too awkward.
Writer's proficiency
They want you to believe the tutors are native speakers with college and advanced degrees, but they are NOT. At least, the person who worked on my piece did not fit this description. If you decide to risk it with this company, talk to your writer and ask lots of questions before paying.
People talking
To my surprise, I found an Acemyhomework Reddit community, though it was created and abandoned within a couple of months in 2017. There were no reviews, only company posts. Trustpilot and SiteJabber were also 100% free of Ace My Homework reviews. The more I researched this website, the more it felt like a ghost company.
Loyalty program
Considering the bidding system, there isn't one. However, you might be able to get lower bids if you work with the same writers repeatedly. I won't be using this site again, so I'm not the best judge of this.
Similar Reviews
FAQs
| | |
| --- | --- |
| Is acemyhomework legit? | On the main page, I noticed promises of a full refund, but there was no information about it in their Terms of Service. They seem to be trying to cheat, shame on you guys. |
| Is acemyhomework scam? | They did my paper, but it was just a waste of money. It seemed that I got a blog post instead of the ordered argumentative essay for a college student. |
| Is acemyhomework reliable? | The paper quality was awful! The assigned writer ignored all my instructions and just chose several articles from Wikipedia to compose my argumentative essay! |
| Is acemyhomework safe? | There is no mention of revision policy in Terms of Service, so I doubt it. In any case, it wouldn't help me as my paper was beyond salvation. |
| Is acemyhomework trustworthy? | I wanted to read reviews to answer this question, but I didn't find anything! There was Acemyhomework Reddit community, but it contained only company posts and no student comments. |
Comments (7)
biaggio.cullen says:
at 2021-01-20 21:21:00
Terrible experience, you guys failed my exam. Which now will drop my grade.
ivanlopeza says:
at 2021-04-23 19:11:00
Very terrible experience. This is horrible. I got a 30% on my test from 100. That is beyond terrible. Now I will most likely fail my statistics class. I have almost 40 orders with you, and this is what you guys do?
lpayne1908 says:
at 2021-06-21 15:16:00
I pay for a top writer and they couldn't even followed the instructions
herminedw says:
at 2021-12-12 18:21:00
The writer's do not follow instructions regardless of how much information you give them.
jordanrileym says:
at 2022-03-13 11:56:00
This was not a professionally written paper. Nothing was really said and many parts were constantly repeated but just phrased differently.
rosanielouis says:
at 2022-03-28 01:16:00
I ask for three references and only two was given. And it was after multiple back and forth emails that I was able to get the references. Unnaceptable.
alaanice1993 says:
at 2022-04-05 10:56:00
I just do not like how the writers do not use the books that I send !!!!! as a source and work cite them!! I always have a problem with that !! and I hate that they only use one source, I used to order a lot and the writers would always use more than one source without asking for it because it is an essay !!!!! but I just feel lie it is all about money now ! if I want something I need to pay!!!