Hey, want to make the most of writing services? Here's our this month's best picks:
Service with a negative reputation
Updated: March 15, 2023

Author: Will Martins
We don't recommend this service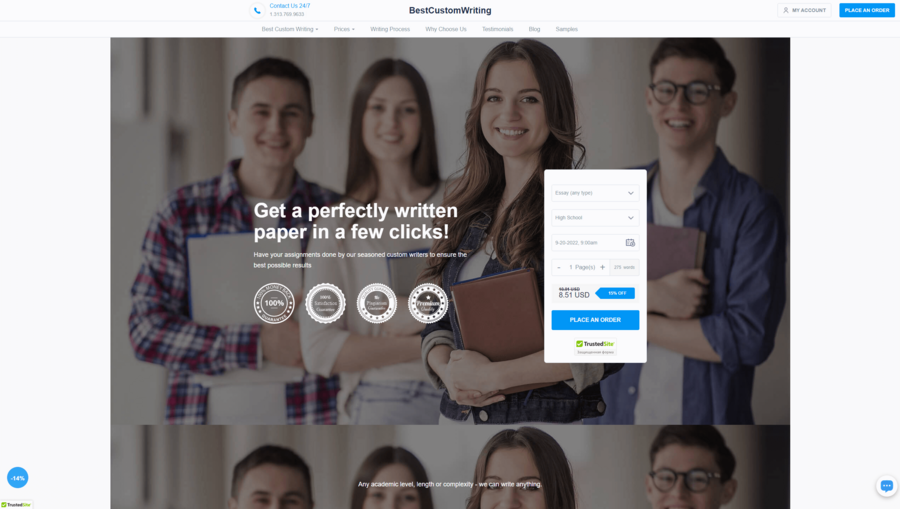 Pros
Short and sweet order form
A wide BestCustomWriting coupon selection
Cons
You get what you pay for: the writing quality is very poor
If you want a free revision, be prepared to argue your case
Discount pop-ups quickly become annoying
| | |
| --- | --- |
| Owned by | Steadi LTD |
| Years in operation | 13 |
| Minimal price per page | $8.51 |
| Deadline | 6 hours |
| Revision policy | Yes |
| Refund policy | Yes |
Is BestCustomWriting legit? Smiling students and ridiculous safety seals on the homepage want you to think so, but I'm here to prove otherwise. While the company doesn't claim to be US-based, they promise transparency. Still, they don't want you to focus on the fact that the website is operated by Steadi LTD based in Bulgaria.
I can say that the service webpage is user-friendly, but it doesn't mean I liked using the webpage. It's too light for a person that is used to dark modes on all the applications, and it could have been made more creative. I think the designers weren't trying their best when they received this order.
Customer support
I want to start my BestCustomWriting review with my experience with their customer support because it (my review) will have so much in common with many Best Custom Writing reviews I read online. Even though the agents were answering quickly, at first, as soon as I asked for a free revision, they stopped answering me at all. I just can't understand such behavior. If you cannot fulfill what you guarantee in accordance with your webpage, then just simply correct this conduction of unlimited free revisions.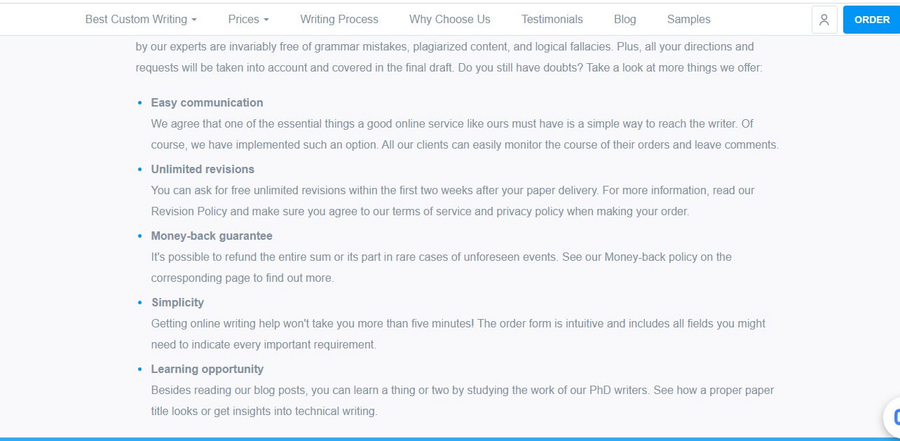 My experience
Have you heard the saying that the client is always right? Well, BestCustomWriting hasn't. After receiving my paper I looked through it and understood that not all my instructions were considered in it, So, of course, I requested revision, especially considering that they promise free unlimited revisions within two weeks after paper delivery. But the author had another opinion. I was asked to pay for this revision and our argument lasted for hours until I just got tired and decided to finalize the job myself, as I didn't want to waste my time any longer.
I would recommend Best CustomWriting to organize some courses for their workers about how to be client-oriented and how to learn to accept your mistakes and thanks to it get more positive Best Custom Writing reviews. And I wouldn't recommend those who value their money and time use this service.
Order form
The short and sweet order form is the best thing about this company. It requires minimal input and takes a minute to fill in. Aside from the basic fields for the deadline, academic level, and type of assignment, I found two fields for writer preferences. Selecting one of the Top 10 writers for my essay nearly doubled the price, so I quickly unchecked the box. I couldn't use the Preferred writer option either, because it was my first (and last) order.
By the way, you can fill in the info without creating an account, but you will need to provide an email to complete the order. Alternatively, you could also log in via Facebook, though I wouldn't recommend it for privacy reasons.
Discounts and pricing
When entering the webpage I received the discount code for 15%, and even though the prices are rather low, it's always pleasant to know that you have the possibility to pay less.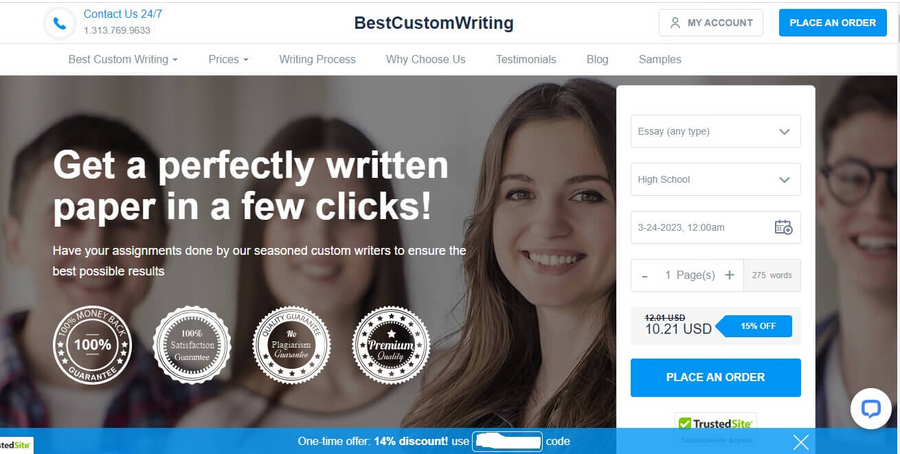 Meanwhile, the prices weren't that high, to begin with. High schoolers get the lowest rate of $10.21, while college students have to pay $11.49 per page. For PhD-level writing, you would have to pay $13.27 per page. All prices are valid for the deadline of 14+ days. These are some of the lowest rates I've seen, but you get what you pay for, so don't expect outstanding quality.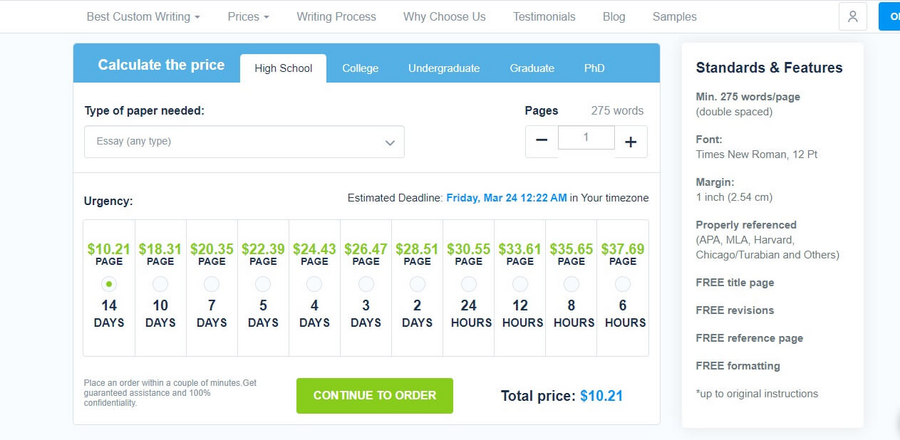 Revisions
I got into an argument with my writer over the revision. I wanted them to polish some passages and add more evidence to support the main argument. However, the writer wanted me to pay extra for this work. I had no desire to spend more money or wait for a dispute resolution, so I did the job myself.
As usual, you don't get a refund unless you go through the revision process. And you only have three days to complain about poor quality if you want to get your money back. I suggest sending a refund request as soon as you get your piece if it doesn't meet your expectations.
Final quality
After receiving B+ for my paperwork I really had the desire to claim the salary for the work I've done. As the service didn't agree to do the revision I had no choice but to do it myself. When I added several additional sources of information, checked whether there were grammar mistakes, misprints, or typos, and rewrote a couple of sections of the essay I was finally satisfied. So don't be fooled by the positive BestCustomWriting reviews you can read online, it seems like they are all fake.
Writer's proficiency
I really hope that my BestCustomWriting.com review would help someone make the right choice of writing service. I always try not to be prejudiced but judging from the quality of my paperwork I have some doubts that the writer was a native speaker or had enough experience or knowledge to write my paper. Maybe someone was in a bad mood, or it was just not their day, but I had a feeling that the writer just googled the topic of my paper, opened the first link, and thought that it would be enough.
People talking
My BestCustomWriting Reddit search returned a fun thread named "Website writes college papers for students. Employees can't write for shit." Comments were rather scathing about the company's inability to write quality copy for their website.
Surprisingly, I found multiple glowing BestCustomWriting reviews on Trustpilot. Though some of them sounded fake, many looked genuine. However, SiteJabber users were less kind. The two negative reviews I found there were almost enough to stop me from placing the order, but you know I'm too curious for my own good.
Loyalty program
BestCustomWriting offers 5% to 15% discounts for regular customers based on the number of pages ordered. Twenty pages make you eligible for the minimum discount, while 100+ pages will get you 15% off all further orders.
There are also volume discounts for individual orders ranging from 5% to 15%. And the funniest offer I found was a 25% discount for the second order that makes it even cheaper than your first one at 20% off.
Similar Reviews
FAQs
| | |
| --- | --- |
| Is bestcustomwriting.com legit? | They have a pleasant website design that assures the company's legitimacy. However, they try to hide that this writing company is operated by Steadi LTD based in Bulgaria. |
| Is bestcustomwriting.com trustworthy? | I had to rewrite almost half of the paper to get a B+ on it. I doubt that it is a trustworthy service for students who strive to study well. |
| Is bestcustomwriting.com scam? | Fortunately not, but it's not good enough to recommend. However, if you don't care about your grades, then you can turn to this service. |
| Is bestcustomwriting.com safe? | I tried to get a free revision, but it was unsuccessful. Despite the fact that I provided arguments and pointed out the paper's weak parts, the writer continued to demand payment for it. |
| What is bestcustomwriting.com rating? | The company's ratings vary greatly. If you visit Trustpilot, you will see 4,5 out of 5, but SiteJabber gives only 2.5 stars to this company. |
Comments (7)
red1430 says:
at 2021-01-23 23:35:00
I can not recommend their service when all papers I have to constantly review and correct mistakes Very poor
e60tarhee says:
at 2021-03-30 11:32:00
The paper looks to be pretty good and the only concern is the overuse of quotes, but still overall a good paper The paper was originally produced under the wrong topic and needed to be rewritten in under 6 hours.
mysurface3 says:
at 2021-06-13 20:58:00
The writer didn't not follow the directions that were outlined in the discussion. There are no emails to let you know that paper is completed. Live Chat support could not help with any issue.
red1430 says:
at 2021-06-21 20:39:00
I had to review and correct your errors myself
sagarkunwar466 says:
at 2022-01-17 15:57:00
very very very unsatisfied and disappointed
tylerwilliams40 says:
at 2022-02-16 13:58:00
I was expecting to get a message asking a few details about myself to be able to write a paper that would fit my perspective, but then I receive a paper in a couple days speaking from an adult's point of view. The next paper I received (seeing as I could not use the one before) seemed more like a first draft high school quality paper in regards to grammar, run-on sentences, and punctuation. The works cited is also not in alphabetical order by last name as is required in the MLA format. With all due respect, when I pay top dollar for a top writer I expect to get better quality than what I received. It doesn't even look like a top writer reread his or her own essay and tried to fix several flaws. Customer support however was always quick to get back to me.
chantaldavis222 says:
at 2022-03-28 16:06:00
I requested kindly to the writer the paper must be 5 pages long, regardless of the words, as my professor does not count words, they look for the pages only , and I have paid for full 5 pages, but the paper only shows 4 pages , it is kind of urgent paper, I am not happy with the service at all.