Hey, want to make the most of writing services? Here's our this month's best picks:
Service with a negative reputation

Updated: January 11, 2023

Author: Will Martins
We don't recommend this service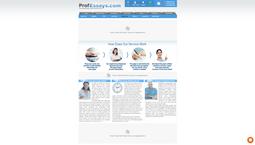 Cons
Low-quality essay
High prices
Awful support service
No ProfEssays.com reviews on Trustpilot and SiteJabber
| | |
| --- | --- |
| Owned by | Not Given |
| Years in operation | 18 |
| Minimal price per page | $16.95 |
| Deadline | 24 hours |
| Revision policy | Yes |
| Refund policy | No |
Searching for a new writing service to test, I came across ProfEssays.com. Honestly, I did not like their website, as it looked so old, like "Hi, it is 2010." Moreover, there are technical problems, for example, the lack of a price calculator.
After the quick exploring of the website, I decided to check the section "Samples." It also works badly, as there are empty spaces without paper examples (you can see it in the picture). However, I found a list of subjects at the end of the page, with essay samples on them.
Such an awful website made me doubt the company's reliability, but this did not stop me from placing an order. So keep reading my ProfEssays.com review to find out whether this service is worth your money or not.
Customer support
Like most writing companies, ProfEssays promises 24/7 support service, but the reality is the opposite. Having opened an online chat to clarify some issues, I had to wait 20 minutes for a "reply" from a bot that demanded to indicate an email and a name to get a support agent. But even after providing personal information, I did not receive any response.
Other ways to contact online support are to make a call or to send a "support ticket." But as for the last one, you have to fill in the huge form with detailed personal information!
My experience
The main question that I was interested in placing an order "Is ProfEssays scam?" Fortunately not. I got my essay on Sociology before the deadline, but as for the quality, I expected something better.
After reading the paper, the category of writer "Banned" stopped surprising me. How could my expert deliver an essay with those typos and punctuation errors?
The next shocking thing was a weak paper structure, with an awful thesis and unstructured paragraphs.
Order form
There is nothing complicated in the ordering process, and it includes three parts: project details, personal information, and payment method. It is a bit unusual when you choose a deadline, you have to indicate your time zone.
As for other features that I had seen for the first time, there was the writer category "Banned" and the need to provide the residence address. Are they going to send my essay by mail? It is a really strange service.
By the way, this company promises an outline, title page, plagiarism report, and a bibliography page for free.
Discounts and pricing
As I wrote earlier in my ProfEssays review, there is no price calculator due to technical problems. So the only way to find out the cost of a paper is to fill in an order form.
The price depends on the deadline, academic level, and type of paper. I discovered that prices per page of an essay with a 14-day deadline started from:
High school - $16.95
College/University Freshman - $18.95
College/University Sophomore - $19.95
College/University Junior - $20.95A
College/University Senior - $21.95
Graduate School - $23.95
Doctoral program - $25.95
Professional (any industry) - $23.95
Moreover, it was the lowest pricing policy for writing help! For example, if you order a capstone project, then prices rise by three dollars.
As for discounts, they offer only 15% off for the first order.
Revisions
After 30 minutes of searching for a revision policy, I finally managed to find it. They offer a 21-day limit for requesting an unlimited number of free revisions. In case of large orders, it can be extended to 40 days at the company's discretion.
But if you miss the revision period, then the company will provide an updated paper for a determined fee.
Final quality
The final quality was lower than I expected. Submitting this paper to a professor, I would get a C for it. So, is ProfEssays reliable? No, and in my ProfEssays.com review, I recommend staying away from this service.
Writer's proficiency
I consider that my writer was a lazy person who decided to ignore the step of proofreading and correcting typos in the paper. And at the same time, the weak points of paper structure demonstrate his poor writing skills.
People talking
Having seen this company for the first time, I was wondering, "Is ProfEssays legit?" There are testimonials on the website that can be counted on one hand (besides, in general, they are fake). So I started searching for reviews on ProfEssays.com and was disappointed.
The trusted and favorite student platforms Trustpilot and SiteJabber were empty, and I did not find any ProfEssays reviews on Reddit.
Loyalty program
The company has a loyalty program that is based on the amount of money a client has spent. Unfortunately, they are not very generous.
Having spent more than $500, a customer receives a 5% discount on future orders. In case you spent $1000, you get 7% off and a 10% discount for the sum of more than $2000.
Similar Reviews
FAQs
| | |
| --- | --- |
| Is professays legit? | This company tries to hide information about its revision policy, but after 30 minutes, I finally found it. To my surprise, I discovered clear and fair conditions. |
| Is professays scam? | Fortunately, this company turned out to be a real that delivered my paper before the deadline. As for the quality, it could be better considering the price paid. |
| Is professays reliable? | Unfortunately, I have a negative experience at this company that sets high prices but does not provide professional help. All their promises and benefits are a complete lie. |
| Is professays safe? | I tried so many ways to get in touch with the support team, and they were all unsuccessful. But if it comes to money-back, how can customers get it without support agents? |
| Is professays trustworthy? | No one puts trust in writers on ProfEssays. Having googled "ProfEssays reviews," I found nothing! All favorite student platforms were empty without a short comment about this service. |
Comments (13)
ksa-ahmed015 says:
at 2021-01-21 17:07:00
Does not deserve a single star. My paper had to be assigned with 3 Writers.
savi_sands says:
at 2021-03-15 11:25:00
Paper was not in correct APA format I had to fix assignment even after paying 250.00 use this company as a last last last last option. long process paper still not spaced correctly. paper is super late and i still have to fix myself not worth 250
takeyla714 says:
at 2021-04-27 18:04:00
Worst company that I ever dealt with. The papers are not professional and they do a lot of plagiarizing. The grammar is terrible don't waste your money.
gala-alro0oh77 says:
at 2021-05-02 20:32:00
so BAD website. they will take your money without giving you any kind of job. I asked them to gave me my money back, but no body care. find other website if you need to complete you work in proper time
acufflink says:
at 2021-05-28 10:34:00
Could guys at least assign people that now how to write and have read the books to do the work? I understand it's a business, but if you cannot deliver quality work- people will go elsewhere with their money.
hungfai says:
at 2023-03-28 22:46:00
The paper was really bad in quality and the expert does not know what he is writing about. I am honestly really disappointed with the work.
bsimplyjoyful1 says:
at 2023-05-04 22:46:00
The paper was not professional, nor was the instructions adhered to. I am very disappointed.
tierra.1991 says:
at 2023-07-11 10:28:00
paper was received a full day early which was very much appreciated but the quality of the paper is mediocre and there are quite a few grammatical errors.
tyler.u says:
at 2023-07-02 10:29:00
It seems as though the writer does not speak English as a first language and it is evident through the writing. There are grammatical and punctuation errors throuought the paper. The works cited is written incorrectly, and the writer compared the entire cantos of the translations when the assignment asks to analyze just two passages of each one. I am not happy with this service and I have decided to write it myself. I do appreciate the time and effort that was devoted to the assignment however. But I will not be using this service again nor will I recommend to a friend.
ukgold56 says:
at 2023-06-30 14:47:00
I'd like to add that writers should at all times ensure they're carefully reading Customer's assignment instructions and final papers. In my experience so far, I'll always have to keep restating what I've already outlined in the description/ instructions. This is not a good experience I want to keep having, I mean having the experience of seeing too many mistakes in all my orders.
bluelotus74 says:
at 2023-07-16 14:49:00
most of the lines didn't have in text citation. few citations.
nkye says:
at 2023-07-02 20:22:00
I made 55% . Totally disappointed
najoma says:
at 2023-07-31 20:03:00
I felt like the 4th page was really forced I'm not 100% satisfied, I just approving because of the deadline.