Hey, want to make the most of writing services? Here's our this month's best picks:
Service with a negative reputation
Updated: January 11, 2023

Author: Will Martins
We don't recommend this service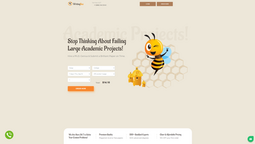 Pros
A 15% discount on the first order
Cons
Fake writers
Awful quality of writing
Delayed delivery
Impossible to get a refund or revision
| | |
| --- | --- |
| Owned by | Writeperfect LTD |
| Years in operation | 14 |
| Minimal price per page | $13.50 |
| Deadline | 1 hours |
| Revision policy | Yes |
| Refund policy | Yes |
Welcome to this WritingBee review! This is another writing service I decided to try, especially seeing its site, which has a very familiar structure for such companies, yet looks pleasant.
It feels like someone has actually had an intention to make a customer-friendly site rather than a set of outdated elements and omnipresent Order Now buttons. Sure, there are buttons here as well, but they look in a suit with the rest of the site. The main question is though, as usual, is WritingBee reliable? That's what made me write this, so strap on!
Customer Support
I enjoyed chatting with customer support at first, the agent was friendly and responsive. I should not make any predictions about the service based on this early interaction though.
My Experience
The site looked quite promising, but there were also certain things that made me suspicious or outright doubtful. I started wondering, is WritingBee safe? I definitely knew better than to rely on the feedback published on the site, so the only way for me to find out for sure was by making an order.
Order Form
The order form consists of four steps, which is more than I am used to, but that's fine, it still doesn't take more than a few minutes to fill. Those steps are:
Type of work and deadline;
Additional paper details;
Extra services;
Secure checkout.
Discounts and Pricing
The page with prices lets you know all you need to know, covering all the possible options of orders, varying in type of work, academic level, number of pages, and urgency (although the order in which deadlines are listed is a mess).
The longest it can take to complete your order is 20 days, and a 1-page college essay with such a deadline will cost $17. The shortest period is only 1 hour, and that's impressive. The same essay with such urgency will cost $45.56.
A WritingBee discount code will help you to reduce the price of your first order by 15%, which won't hurt. However, the prices are not the lowest you can find for quality writing, but they are explained by the professionalism and extremely qualified experts working on these orders. If only that were true.
Revisions
I did not find anything new or unusual in the revision policy, and you have the right to ask the writer to revise your paper within two weeks from the day of completion (up to a month for orders over 20 pages). The problem is that getting that revision, let alone a promised refund for the quality of paper I got, turned out to be quite impossible.
Final Quality
That's right, the paper I got was awful. I'm glad that I had my suspicions, which is why I ordered a shorter work and lost less money than I could have. I decided to check how WritingBee would deal with one of the more urgent tasks, and it failed colossally.
The paper was sent to me with a delay, and only after a series of my messages about the missed deadline. Its unacceptable quality was another reason for me to demand a refund, but customer support stopped responding to my requests.
Writer's Proficiency
If you check top experts shown on the site, that should be a warning already. The good thing is that this writing service finally shows real people with real photos. The problem is, they chose quite distinguished academic researchers, and there's no way they would be writing your thesis or a research paper.
Besides, despite their years of experience and the number of completed orders, there's no proof of their cooperation with WritingBee anywhere except this page.
People Talking
How many WritingBee reviews do you think there would be with such excellent experts? Well, TrustPilot had none, there's not a single WritingBee Reddit review, and SiteJabber has only 10, all positive. The problem is, two of those even have the name of the site wrong. What? Seriously, how?!
That made me doubt the remaining comments, and I then found an old thread on a forum for students, confirming WritingBee is nothing else but a scam. Well, I had the chance to learn that by now from my own experience, but this proved I wasn't the only one and nothing has changed I almost a decade.
Loyalty Program
WritingBee has no loyalty program, and no wonder, no person in their right mind would ever want to order anything on this site again. It's clear, however, that they don't count on that either, which is why their goal is to get your money for the first order, hence a generous discount.
Similar Reviews
FAQs
| | |
| --- | --- |
| Is writingbee legit? | They provide free revisions to polish customers' papers, but it was really hard to get it. Moreover, as I discovered later, it was impossible to request a refund. |
| Is writingbee scam? | It seems so. I wanted to get a refund because of the paper quality, but it was impossible! Moreover, I found many comments with complaints about a scam service. |
| Is writingbee reliable? | Definitely not! I needed my paper to be done within several hours, but they failed it. When I finally got my essay, its quality was terrible! |
| Is writingbee safe? | You know about my missed deadline and poor paper quality, so the only good decision in this situation was to get a refund. But the support team completely ignored my requests! |
| Is writingbee trustworthy? | I won't put trust in them again! It's a terrible service that doesn't care about students and just wants to take their money. |
Comments (4)
nd_44 says:
at 2021-01-22 01:32:00
basic things i always should ask for references and plagiarism... in this work the plagiarism is 26% it is really annoying also i ask the writer to reference any source that he used and he used preview paper b ut he did not reference it
bellyestima says:
at 2021-03-05 11:23:00
Unfortunately I paid $90 for your "Top Writer" for a paper that brought my overall grade for class down. The professor will not allow me to revise the paper. The only reason why I approved this paper is for the opportunity to rate the paper quality. Grade for this paper was 79% (237/300) the lowest grade I received for the entire semester. I don't believe the writer read the instructions that was given. The Professor stated there was a lot of information that was left out. The 2 highest graded paper I received in this class was a paper I wrote on my own. If this is the quality of the "Top Writer", this will leave me to question continuing to do business with writing bee.
ginn876 says:
at 2021-03-30 22:31:00
I paid for 2 days paper i got it in 4 days + a revision took more than 24 hours = so in total i got the paper in more than 5 DAYS
rufiona12 says:
at 2021-07-02 12:28:00
This is not a good paperwork. I am spending the night working on the paper. I put money in the garbage.