Hey, want to make the most of writing services? Here's our this month's best picks:
Service with a negative reputation

Updated: January 11, 2023

Author: Will Martins
We don't recommend this service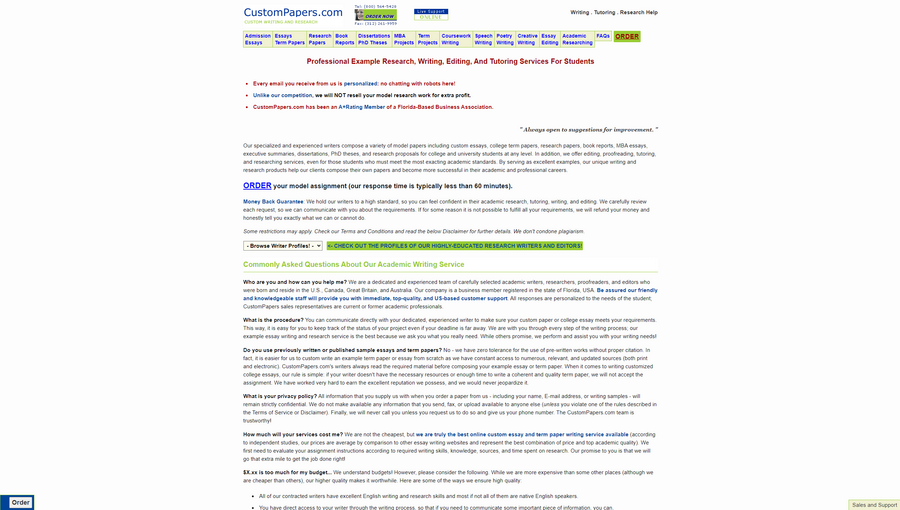 Pros
Over 19 years of academic writing experience
Cons
Outdated and confusing website design and unclear pricing policy
Poor paper quality at "Good writing level"
Support managers are unavailable even during the office hours
Multiple negative custompapers.com reviews
| | |
| --- | --- |
| Owned by | Custom Papers LLC |
| Years in operation | 22 |
| Minimal price per page | $20.00 |
| Deadline | 6 hours |
| Revision policy | No |
| Refund policy | Yes |
When I first saw the website, I thought it was a mistake. I couldn't believe a respectable company could have a site looking like that.
It was a throwback to the early 2000s with too much copy and no thought to design and navigation. I felt like it was the same site the company first created 19 years ago that never had any updates or upgrades.
The company claims they have been certified by BBB, but they aren't actually accredited, and there are neither reviews nor complaints on their page. That was the first lie I caught them in, and it wouldn't be the last one.
Customer support
They lure you in with a promise of support managers available online. Still, if you look closer, you'll notice they have office hours.
Moreover, when I went to chat about the quality of writing in my order, no operators were online. All I got was a contact form and a promise they would get back to me within 12 hours, for all the good that would do me.
My experience
Is CustomPapers cheating with your orders by charging more than their services are worth? That was definitely the case with me.
For over a hundred bucks, I got a poor excuse for an essay, had no help from support agents, and got no luck with free revisions. I doubt this company is capable of quality work even after almost two decades of academic writing.
Order form
The order process looks and feels as outdated as the website. There were standard fields for the paper topic and the deadline.
The funniest thing was the selection of writing levels among ESL, Good, Very Good, and Exceptional. I noted there was no option to pay via PayPal, which always seems shady. The one good thing about the order form is that every page is 300 words long, not your average 250.
Discounts and pricing
The company promised me their prices were half as low as some of their competitors. However, their rates started at $35 per page, and that was for the high school level. I had to pay over $100 for a 3-page-long essay on a 14-day deadline.
That was one of the most expensive papers I'd ever ordered, and it was not the best. I wish I could have found a CustomPapers coupon, but I had no such luck.
Revisions
Custom Papers promise free revisions within 48 hours of a request. And so request I did. However, I did not notice the fine print stating all revisions would be completed at the writer's discretion. My writer made a few small changes but did not address the biggest issues I pointed out in my comments.
Final quality
For $100 I spent, I expected an A+, but the essay I got barely got me a C, and that was after I went through it and corrected the worst parts before submission.
I had no time to look for better references or rework the thesis and argumentation. It would have been easier to rewrite the whole thing, but I only had a few hours before the deadline.
Writer's proficiency
I chose the Good writing level, so I can't be sure if higher levels are any better. When I read the paper, I remembered one Custom Papers review that complained about the paper reading like it went through Google Translate.
That was true for my essay, as well. Some sentences made no sense, and the phrasing was too awkward for words at times. I doubt a native English speaker wrote my paper.
People talking
Is custompapers.com legit? That's always the first question I ask myself about any company. I found both positive and negative reviews on Trustpilot and SiteJabber.
The most disappointing was a CustomPapers review that cited plagiarism in the paper that got the student suspended from school.
By the way, there are testimonials available on their website too, though I'm not sure they are genuine. They aren't dated, so even if the reviews aren't fake, I can't be sure when they were published.
Loyalty program
Custom Papers do not appreciate their customers' loyalty. I found no way to get a regular customer discount, though there is a mention of possible bulk discounts for orders over 20 pages. I won't be using this company's services again, but let me know if you have any luck squeezing a discount out of them.
Similar Reviews
FAQs
| | |
| --- | --- |
| What do custompapers.com testimonials say? | I was surprised by the same number of positive and negative reviews. Apparently, students try their luck on this service! I also did not like that the negative comments contained complaints about plagiarism in papers. |
| What is custompapers.com rating? | When it comes to online reputation and ratings, I rely only on a few platforms. So on SiteJabber, the company's rating is 3 out of 5, but Trustpilot gives them 3.6 stars. |
| Is custompapers.com scam? | Well, they fulfilled my order, but the quality of the delivered paper was terrible! I did not have time to argue with them, so I just rewrote the assignment. |
| Is custompapers.com fraud? | I cannot say yes, but it does not worth your time and money! I spent a lot of time trying to improve my paper, but I hardly got a C on it. |
| Is custompapers.com safe? | I doubt it, and think they just want to take students' money because I had only 48 hours to request a free revision! Nevertheless, the writer completely ignored my paper comments. |
Comments (6)
kieutrang111191 says:
at 2021-01-18 22:01:00
I disappointed with this paper. Nothing relate to my requirement at all.
berdelynel1993 says:
at 2021-05-19 17:49:00
I've had so many bad experiences with CustomPapers
sj108netid says:
at 2021-05-25 22:53:00
I have sent this for review several times and the paper is horrible. I approve the paper so that I can work and fixing the right way! Very Disappointed! Worse experience ever. The only reason why I am approving this paper is because I have to submit something to get at least 40 points. I am very disappointed. It I would have give zero star I would.
Raghadalsulaiti says:
at 2021-06-07 12:53:00
Not completely reviewed even though I paid for it to be written from scratch... It needs a bit of work from me but overall for the time given it was good!
xhanaenunez says:
at 2022-01-11 17:52:00
Always read the preview before you press accept to ensure it is what you want.
douglasdavidson11 says:
at 2022-02-27 20:47:00
I dont think this writters first language was english. It was very prominent that english was not a strong attribute.