Hey, want to make the most of writing services? Here's our this month's best picks:
Service with a negative reputation
Updated: January 11, 2023

Author: Will Martins
We don't recommend this service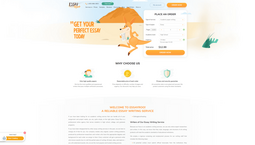 Pros
Great website design and user-friendly interface
Clear and extensive price policy
Cons
A slow support team
Paper quality is below average
It's really expensive for real college assignments
| | |
| --- | --- |
| Owned by | NetFix LLC |
| Years in operation | 6 |
| Minimal price per page | $13.00 |
| Deadline | 3 hours |
| Revision policy | Yes |
| Refund policy | Yes |
Hi everyone!
Let me express my thoughts and feelings regarding Essayroo.com a paper writing service that claims to be located in Australia and hiring only English Native Speakers as their writers.
Literally, a dream come true: finally we've found a paper writing company working only with native speakers. Or haven't we? Read this Essayroo review to know the truth.
I won't lie, I really liked the colors and overall design of the website with a funny kangaroo holding a paper in its hand and a pencil in its pouch. Now I realize that this image is literal because my paper was really written by a kangaroo instead of a human being. But let's move on to the website itself.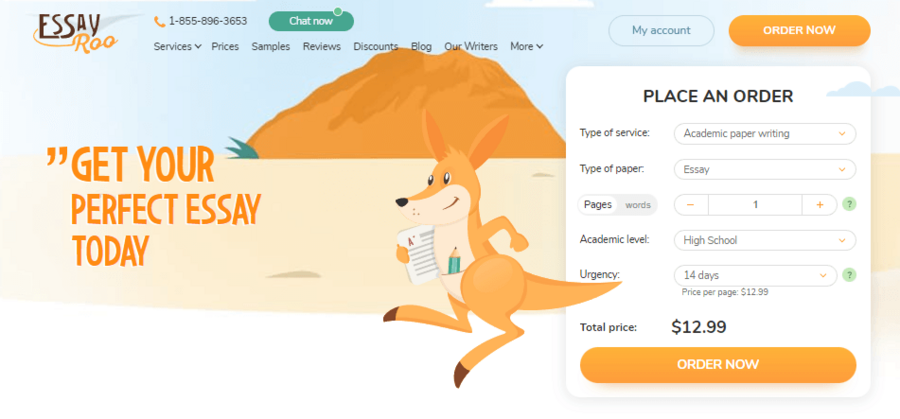 It has a price calculator that shows you the exact price of your future paper based on the type of paper, number of pages, deadline, academic level, etc.
As we can see, the price starts at almost 17 Australian dollars, which approximately equals 13 American dollars. The website's functionality is great, it has all the necessary information regarding the service, the discounts, the clients' feedbacks, info about their writers, etc.
While I do realize that the pleasant and user-friendly picture made me click on the button "Order Now", I should have studied their services more precisely and check the feedback of real buyers instead.
Customer support
Customer support is a crucial aspect of any online writing service, and unfortunately, essayroo.com falls short in this department. My experience with their customer support was extremely disappointing and frustrating. Firstly, despite their claims of providing 24/7 support, it took them hours to respond to my queries. When they did finally respond, their replies were unhelpful and lacked any personal touch. It felt like they were sending out canned responses and uninterested in resolving my issues.
Furthermore, the representatives I spoke to were unaware of their service or the processes involved. They seemed confused and unable to answer basic questions about the service, leaving me frustrated and uncertain about what to expect. Overall, the customer support provided by essayroo.com was lackluster, unresponsive, and unhelpful. They failed to provide adequate support or address my concerns, which made my experience with their service incredibly frustrating.
My experience
Okay, I can cope with such a support team as long as their writers provide good quality of the product. To be honest, I'm not really into studying hard and prefer working and earning money for my own living and gaining real practical experience.
So, as you can imagine, in order to work and study at the same time, I had to "outsource" something that was less important for me. Obviously, I would not want someone to go to work instead of me because I'm currently working as an assistant in the Insurance company, the payment is really meh but I gotta start somewhere.
So, I've ordered 4 pages essay on Biology from Essayroo. The deadline was 3 days and I had to pay almost $100 for this. I don't know about other companies, but this is rather expensive! If you compare to doing it by yourself for freea|I should have done it by myself though.
Order form
Another area where essayroo.com fell short was its order form. As a customer, I found it confusing and not user-friendly. Firstly, the form required me to fill in the same information multiple times, which was time-consuming and frustrating. It also lacked clear instructions, making it difficult to understand what exactly I was supposed to do. It resulted in me wasting a lot of time navigating their order form, which was frustrating.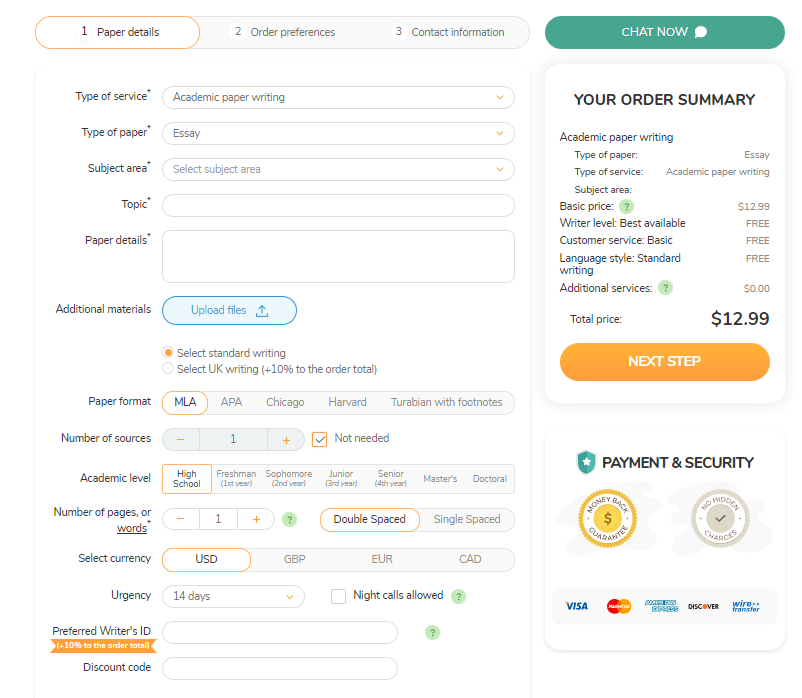 Furthermore, the order form did not offer any customization options, so I could not specify certain requirements or preferences for my order. This lack of flexibility meant I had to settle for a generic order, which did not meet my specific needs. Overall, the order form provided by essayroo.com was not user-friendly, lacked customization options, and was confusing to navigate. As a customer, I expect a simple and intuitive order form that makes placing an order quick and easy. Unfortunately, essayroo.com failed to deliver on this front.
Discounts and pricing
Regarding pricing, essayroo.com is not the most affordable writing service out there. The minimum price per page is $13, significantly higher than many of their competitors. This high price point makes it difficult for students on a tight budget to justify using their service, especially when more affordable options are available. However, it is worth noting that essayroo.com does offer a 15% discount for new users. This discount applies to the first order only, and it does help to offset some of the high pricing.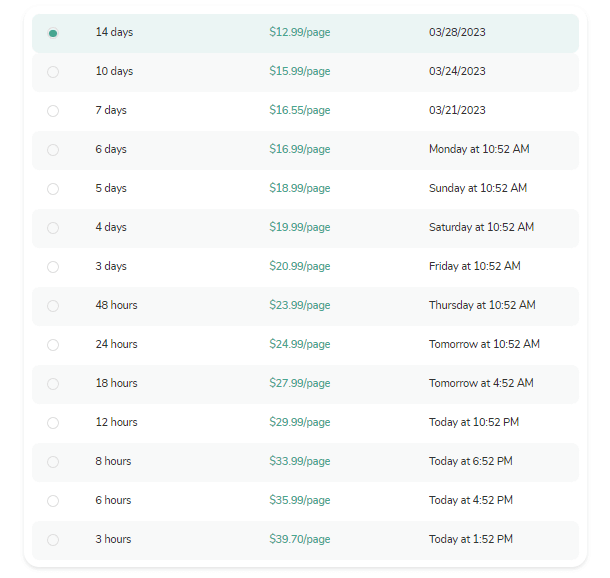 Despite this, the lack of ongoing discounts or rewards for loyal customers is disappointing. As a student who may need to use writing services regularly, I would expect to be rewarded for my loyalty. Unfortunately, essayroo.com does not offer such rewards, which means that the high pricing is a regular expense for students who need to use their service regularly.

While the 15% discount for new users is a nice gesture, the high minimum price per page and lack of ongoing discounts or rewards make it difficult for students to justify using essayroo.com regularly. More affordable options provide similar quality work, making it difficult to recommend essayroo.com as a cost-effective solution for students.
Essayroo prices are quite high. Anyway, at least it's an honest thing to do to provide a full spectrum of prices and charges they collect. Outline and bibliography should go for free by default and it does not mean that you show your generosity by making them "free".
Revisions
Is Essayroo legit? Let's check their guarantees. The company offers an unlimited number of revisions within 14 days after the order's delivery. Anyway, the paper was written really awfully the first two times and when I got the third revised variant of the paper, it was late to submit it.
Great! I've wasted several days and a hundred bucks for being late with the paper. So, it's good that the company's ready to revise the paper, but it's bad that they could not have done the order from the first try.
Final quality and Writer's proficiency
Is Essayroo.com scam? It is up to you to judge. As I told you, my paper was full of typos and grammar mistakes. Seemed like it was completed by not an English speaker, but by someone who just learns to use the language.
It was also sad that they have failed to meet the deadline and deliver the paper on time. I also did not have any chance to communicate with the writer, and it seemed like several different writers have been working on my paper. So, is Essayroo reliable? I cannot say that this is a good service.
People talking
Essayroo.com.reviews are extremely mixed, while ones are praising Essayroo for saving their lives and voting them for the next President, the others really curse them with all possible words and phrases.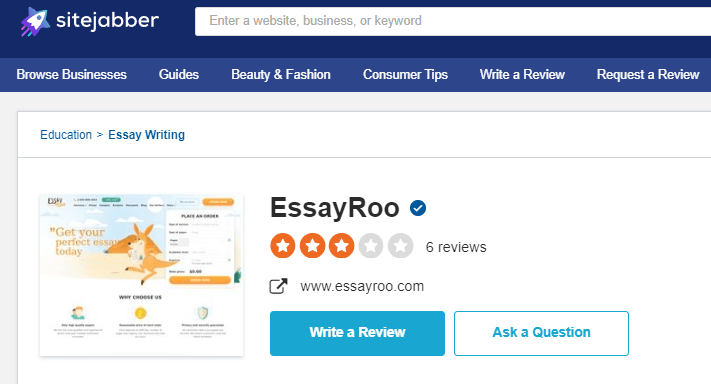 As for me, I gladly join the latter and would like to express my disappointment but I don't want to use explicit phrases in this
Similar Reviews
FAQs
| | |
| --- | --- |
| What do essayroo.com testimonials say? | It's hard to answer because there are reviews with one or five stars, which makes me doubt their credibility. So some students praise them greatly while others criticize with all possible words. |
| What is essayroo.com rating? | The company's rating ranges greatly at different websites, but the average is about 4.2 our of 5. But I give them no more than 2.9 out of 5.0 based on my experience. |
| Is essayroo.com reliable? | Definitely not. They failed my deadline, and the delivered paper was full of grammar mistakes and typos. I also couldn't communicate with a writer and had a feeling that different people worked on my essay. |
| Is essayroo.com legit? | They offer an unlimited number of free revisions within 14 days, but they are not helpful. The paper quality was still terrible after two reviews, and the third variant they delivered too late. |
| Is essayroo.com scam? | I described above my experience in detail, so judge for yourself. In any case, I think this service is not worth student time and money, as they can leave with nothing. |
Comments (3)
cutelalabug8 says:
at 2021-03-11 19:31:00
I did not like the first paper I received, It was terribly written. my paper was over due I did not realize how low of quality paper I would get by choosing best available writer I anticipated at the very least a half decent paper, but my son in high school could have written it better. I thought by paying extra for TOP writer it would improve dramatically, while the overall paper ideas were better the large amount of spelling and grammatical errors were of concern to me, someone that I would consider a TOP writer would not have made those sorts of errors even in a rough draft. I was hoping this would be a smooth paper that required little attention from me because I am dealing with a loss of family member, my child had surgery and became ill, and just one thing after another I did not have the time or mental capacity to write this paper at this time, so having to review and suggest revisions was difficult to do without simply writing the paper myself. I found some relief time wise by outsourcing for my paper but it was not as simple and straight forward as I had hoped for. If I use this service in the future I would give it one last try if it does not meet my expectations then I likely wouldn't use it again, but next time I would absolutely give more time, make sure to have a good solid week for a quality paper and time for revision if necessary. I also hoped to receive email updates on the progression of my paper but I did not receive emails so had to keep checking my account on the site, not very convenient. also again I would NEVER use best available writer, nor would I ever suggest or recommend anyone else to do so.
soccerkinz17 says:
at 2021-04-28 21:35:00
the customer support was horrible. I paid for a 6 page college paper and when they only gave me five pages, they were extremely rude and refused to give me the sixth page. would only give me 100 more words.
taylorseim says:
at 2021-06-08 19:31:00
I absolutely feel like I got scammed. This opinion will change if I get a refund, which I'm apparently not eligible for because I approved the paper. But I feel like I was lied to and scammed.