Hey, want to make the most of writing services? Here's our this month's best picks:
Service with a negative reputation

Updated: March 15, 2023

Author: Will Martins
We don't recommend this service
Pros
Fast customer support
Mobile App (Android only)
Cons
High prices
No loyalty program
Hostile revision policy
Not the best paper quality for such value
| | |
| --- | --- |
| Owned by | Ultius, Inc. |
| Years in operation | 12 |
| Minimal price per page | $17.50 |
| Deadline | 3 hours |
| Revision policy | Yes |
| Refund policy | Yes |
Hello, and welcome! Today we are going to review one of the few actually American writing services. By American, I mean that these guys hire exclusively American writers and have the support office in Las Vegas, NV. But is being American service equals to being a quality service? Let's find out.
The first thing I spotted was a hostile attitude to visitors from Third World countries I could not reach the site through Ukrainian and some other VPNs. I would not say they are racists, but this segregation looks weird to me. The other thing that I didn't like was the necessity to confirm that I'm a human. Well, I actually hate this thing on my webpage, and the necessity of this verification on a writing site is not understandable for me. Maybe to make my Ultius review even more negative.
The site looks really good, and apart from the regular features most sites have, Ultius also offers useful information and writing guides for free.
It's difficult to say how many times they mentioned that they hire American writers only, that they bring jobs to the US and they don't give any to foreigners. They only lacked the motto "Make America great again!" I had a strong feeling that the content writer is a huge fan of Trump.
On the good side, they have a mobile App for Android users. Surprisingly, they don't have any for IOS. Is Ultius.com legit? My personal opinion is that the site looks legit and is rather well-designed.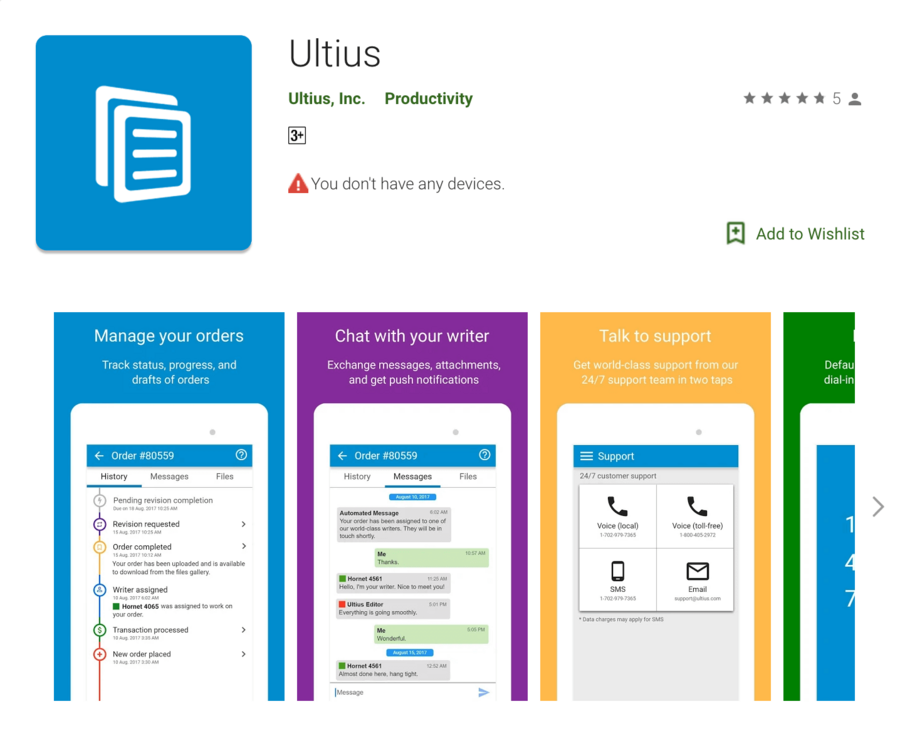 They even provide information about their trademark and link to domain registration details, which no one cares about. Having been on the market for over 7 years (they registered their site in December 2010), Ultius is a good example of how attention to details gives an overall positive impression. 4.5 out of 5. Great job on design and site usability.
Client Assistance
Customer support works ok. I was surprised by the speed of replies when I entered their chat at 7 AM. The support was quite fast and informative.
I asked for a discount and was given a 15% coupon with a detailed instruction where I can apply it. The replies to messages were not that fast; it took Ultius support 7.5 minutes to reply, which is still a good result.4.5 out of 5 for support.
Ultius Paper Writing: My Paper Experience
Is Ultius.com safe? Hard to say, I used it only once to write this review. Unfortunately, my vision of value does not correlate with their pricing. Despite my sympathy towards their service, I would never ever pay $40-50 per page to sponsor employing American support.
Many Ultius reviews that I read online were telling me that the quality of the paper is really worth the money you pay for it. I ordered a 3-page essay with a 2-day deadline, and it all cost me around $100. When I saw this sum I was glad I requested that coupon with a discount, it was 20%, and the highest discount according to the info on their webpage.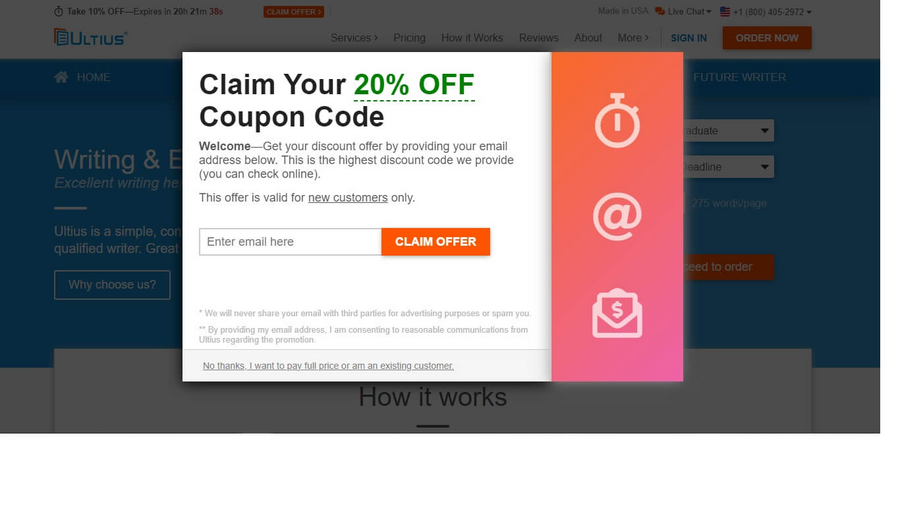 The quality of the paper I received was not perfect, because in my opinion there were several passages that could have been written better. But in general, the quality was satisfying. As I couldn't wait for three days for the service reserves to do the required revision, I decided to redo them myself. Of course, I could pay to make the process quicker but I wasn't ready to do it, as I didn't want to spend extra money. I couldn't take all the credit, because there wasn't much work to do, I had to edit only several passages, but it kind of gave me an unpleasant feeling that I paid money and did get the job done completely.
Submission Interface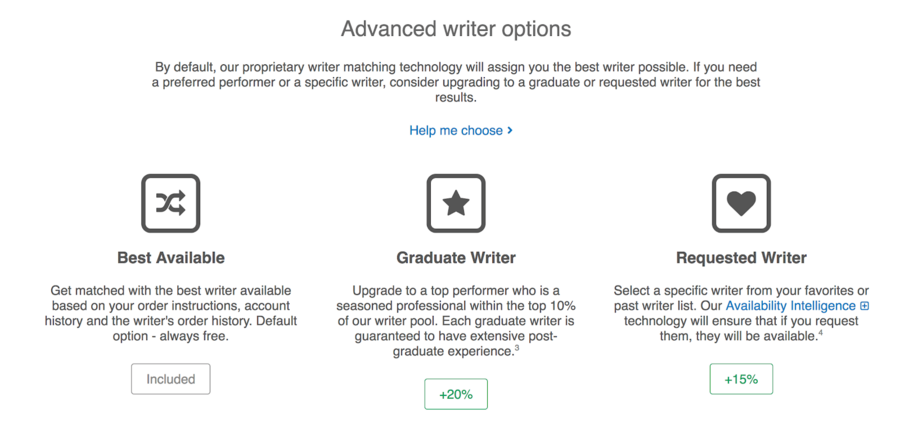 The order form is quite simple and well-thought. They don't have any extras or add-ons, except for Graduate writers, and Requested. Let's review what they offer. Since all writers are native speakers and have at least a Bachelor's degree, the only thing you can pay additionally is getting a writer with a Master's or Ph.D. degree.
This will cost you 20% on top of the base price. If the order is of utmost importance, this feature can be a good investment in your grade. Otherwise, the final quality should be good enough, even without the graduate writer. However, if you order a Doctoral level paper, should you pay for the Graduate writer, if you have already paid more for the higher academic level? This brings some inconsistency to the Ultius' pricing policy.
If you order a Master level paper, you expect that at least Master level students will be working on it, and it turns out that you have to pay an additional 20% just for nothing.
In case you endorsed one particular writer and want to continue working with him/her, please pay an additional 15%. I consider this to be a rip-off because they only make you pay an additional 15% for the same regular writer without adding more value to your order.
Ultius Review: Savings and Cost Structure
If you are a new customer, you can expect 15% off on your first order. There will be no discounts for your future orders with Ultius, except for their promo emails, you will be getting twice a month. Now, let's review the prices. And what I don't like about this offer, and for some reason Ultius reviews don't mention it, is that you have only a particular time this discount is valid, Just look at the count down at the top of the page.

They are high, and I understand why. Hiring American support and writers, running an office in Vegas and paying all taxes is not cheap. However, the customer is a person who overpays for their poor management. I honestly won't mind talking to the ESL support if this means 40-50% cheaper prices.
The Ultius prices are twice higher than those, offered by the industry leaders like CustomWritings or SpeedyPaper. This is the price you have to pay for the arguably premium product instead of using a mass market.
Prices for the urgent order are just huge! You cannot seriously charge people $70 per page and then offer them revisions in 3 days. A quick tip: think twice before ordering urgent orders at Ultius! You may have to pay even more to get it revised properly. I would rate their pricing - 2.5 out of 5.
Amendments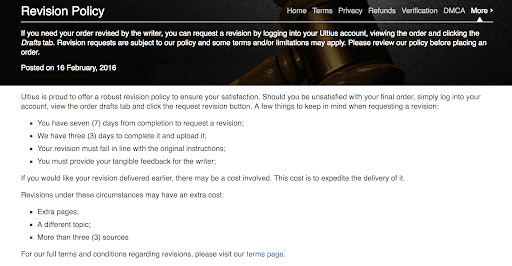 Let's' check their revision policy. As I have already mentioned, Ultius is not very friendly with handling revisions. Even if they deliver pure shit, the chances are high that they will refer to their revision policy and deny your well-deserved full refund.
In my case, they reserved 3 days for revision on a 48-hour order, which just doesn't make any sense.
Ultius Writer: Author's Competence
In my Ultius review, I would give the final quality 2,5 points out of 5. First of all, as I have already mentioned, I had to do the revision of my paperwork by myself. It was because the writer in my opinion didn't have enough experience in my subject, and it's not that easy to write any paperwork without having profound knowledge of the subject. So my advice will be to set a bigger deadline so that in case of necessity you had time to wait for a revision.

Ultius advertises having only native speaker writers, which may be only partially true. I did a small online research and noticed that Ultius accounts are being bought and sold by Kenyan writers.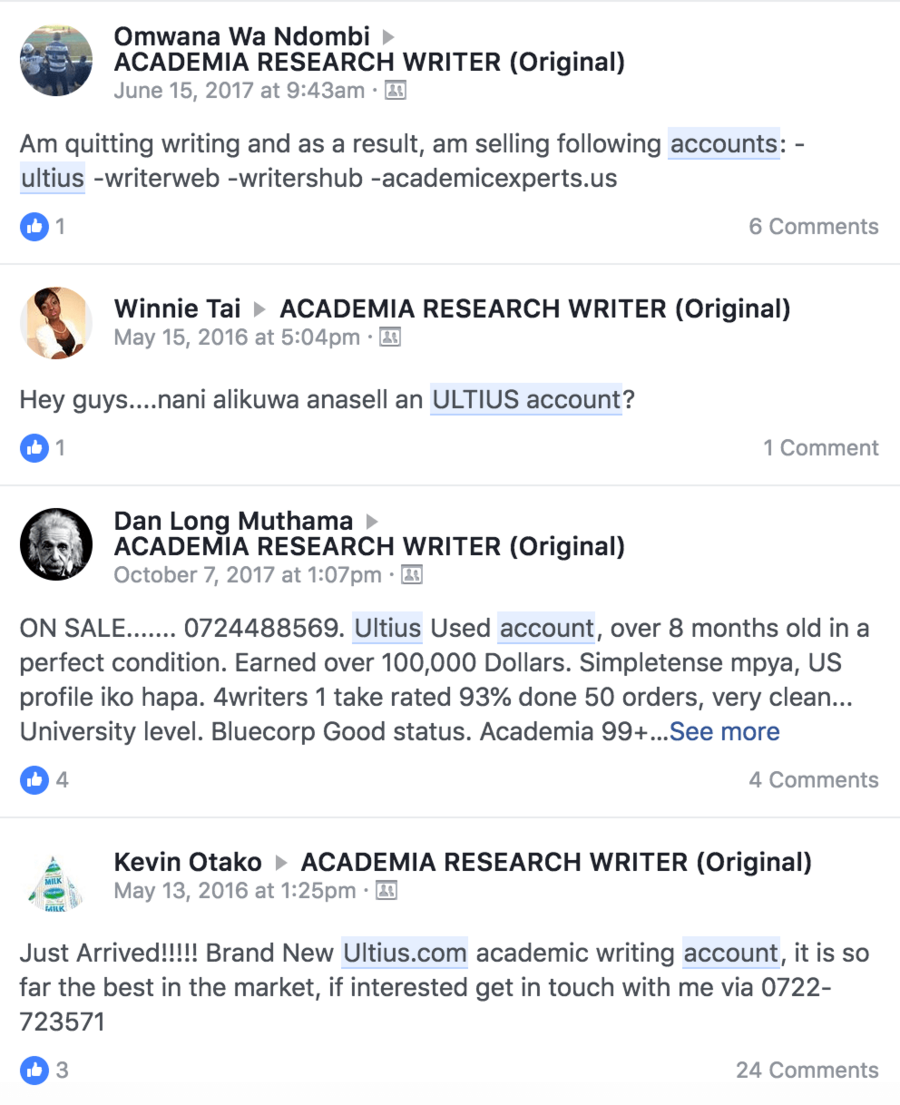 If you read those comments, you will see that a Kenyan writer could maintain the account for 8 months(!!!) without having been spotted by the Ultius quality department. I have two assumptions: Ultius is ok with Kenyan writers Ultius has a poor quality check. Anyways, be always prepared to get a job written by an ESL writer!
Web Reputation
Ultius is a well-represented service on social media sites and has a quite good online reputation. Thanks to Ultius paper writing reviews, the company got 4.9 out of 5 on Better Business Bureau, 4.3 out of 5 on SiteJabber and 4.2 out of 5 on their FB page. I don't know if Ultius.com reviews are fake, but let's have a closer look at the negative ones. INTERESTING MATERIAL
On FB, most complaints are from people who did not get the paper at all or received something of horrible quality. There is also an interesting conversation between the Ultius support and a rejected Kenyan writer. He complained that they shut down registration for Kenyans (see the screenshot below).
Basically, the support told this Kenyan writer that their company cares more about domestic issues and strives to decrease the unemployment rate in the US. WHAT A BIG BULLSHIT, Ultius! Like any other writing service, you help people plagiarize and get money for it.
No strings attached. Students don't use your service for reference purposes or getting fresh ideas. They submit papers as their own!
If you care about your country, just shut down your business. Just be honest with your customers and tell them that you care more about your reputation and don't want unqualified writers to work for them (which is also not true, many Kenyans still work for you).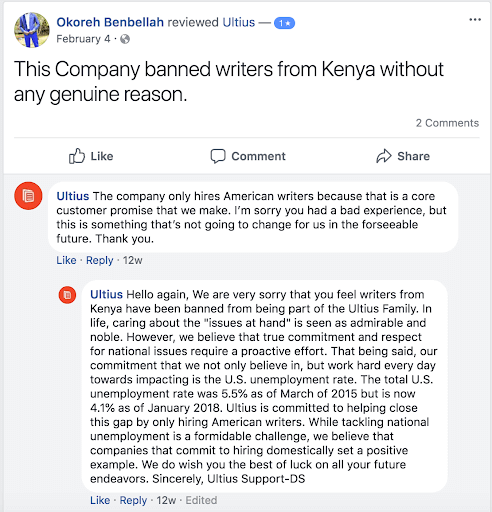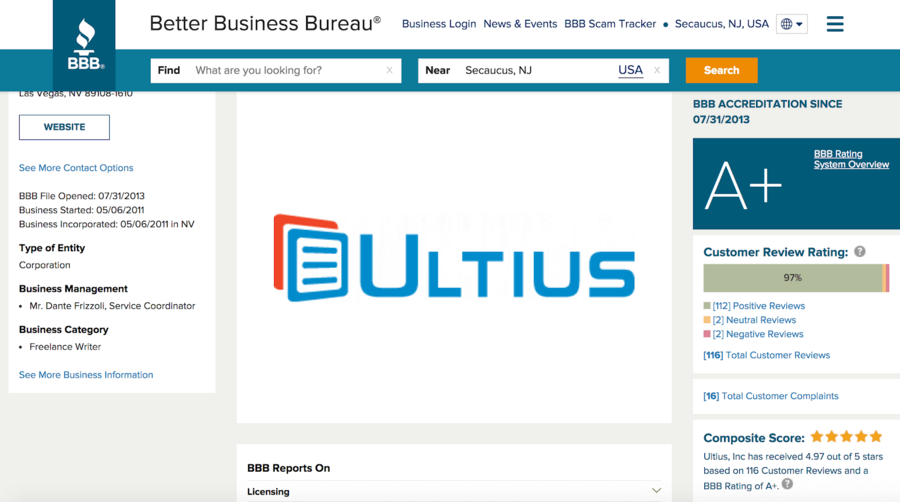 I decided to look for Ultius Reddit reviews. I haven't found them, but there were some posts where people asked about employment at the company and shared their opinion.
As you can see, there is a huge portion of negative Ultius inc reviews that also seem to be legit. I strongly suggest reading them at https://www.sitejabber.com/reviews/ultius.com?rating=1 prior to throwing big bucks into this service.
Ultius Essay: Loyalty Options
I wish to add some information about the company's loyalty program in this Ultius review, but they just don't have any. And it's actually a great surprise for me. The prices of Ultius are not very low, so it would be a great way to attract new clients and encourage regular clients to continue using their services.
Similar Reviews
FAQs
| | |
| --- | --- |
| Is ultius.com trustworthy? | Well, my paper quality was mediocre, and it made me doubt whether the writer had a degree in my subject. So having paid $100, I got C+ on my essay, which upset me a lot. |
| Is ultius.com safe? | Despite the available revision policy, it's very challenging to get a free review. Moreover, one free revision takes 3 days, so if you have an urgent order, be ready to edit on your own. |
| What is ultius.com rating? | I'm not sure about the credibility of the Ultius reviews, but the company's reputation is good. SiteJabber gives them 4.3 out of 5, and on Better Business Bureau, the rating is 4.9 out of 5. |
| Is ultius.com legit? | I think so. The website makes a good first impression, and you can find its real address. But I didn't like that site wasn't available for visitors from Third World countries. |
| Is ultius.com scam? | Given the provided paper, I cannot call this company a scam. However, I did a small research and found out that instead of native speaker experts, customers could be assigned Kenyan writers. |
Comments (4)
jeffdavis says:
at 2021-03-18 15:40:00
18/25 questions were answered incorrectly resulting in a grade of 28%. I'm speechless
tabtapia01 says:
at 2021-04-03 19:36:00
My last paper I had written followed the guidelines that i had provided.This time the author did there own thing even after I explained what needed to be revised. I approved the last revision only to correct what was still not addressed in the paper as i had expressed multiple times. With was not worth the money this time around for as much as i had to correct myself and this is supposed to be an undergraduates work not a high schoolers work
kiarajelks says:
at 2021-06-04 19:35:00
This was absolutely the worst experience I've had thus far. PLEASEE!!! do not waste your time with paying extra to get something done if not at least 24 hrs or more time. They will not deliver and instead take your money so that you cannot go to another company in time to get the job done. You will receive automated messages saying the paper is coming but 4 hrs after the due time you will not receive it. I repeat, do not waste your time and money! This was a total disaster and a waste of time and money! The system glitches, so you think your PayPal payment didn't go through but really it did. However, by time you are notified, it already accepted payment off your visa card as well. So, not only did they take $145 but did not deliver the paper, only wanted to give me 2/5 pages completed in 12 hours and also a 10% discount!!Absolute worst!!! Paper was due at 9pm. I got the revisions of 2/5 pages at 8:55. Then told that they needed extra time to have the paper completed by 11:30pm (no paper). System updated to 3/4 pages(paying for 5 pages). Now its 12:30am (passed the due date and still no paper)! I probably won't get it until 3am and the only thing they keep saying is "the writer will be finished shortly". Don't ask how shortly because then they respond with the same message! It's 12:55 and only 2.5 pages done from 8:55 pm. Just So you all know what I am dealing with and they still requesting more time lol completed at 2:43 am !!! Annoyed
jwana2030 says:
at 2021-06-21 17:42:00
the biggest problem in this website is the writer write information not related to the the references list and some information are wrong especially with numbers i mean by that for my previous assignment, and these notices for my previous assignment after my supervisor gave me the feedback, that is really terrible.